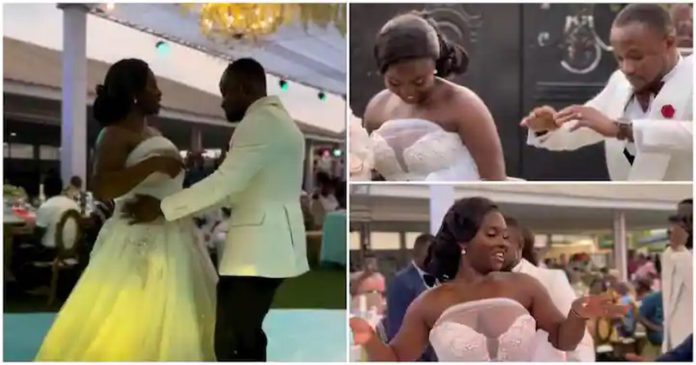 A beautiful Ghanaian bride has wowed some media users with her flamboyant wedding gown. The melanin bride wore a sleeveless gown showing some cleavage.
The lace gown also features an extremely deep-plunge style that was slightly oversized.
This wardrobe malfunction made it impossible for the dazzling bride to walk free and also showed off her impressive dance moves.
The styling team creatively used white lace to tie her bust to avoid showing her full cleavage during the white wedding reception party.
The bride and her heartthrob tied the knot over the weekend in a beautiful ceremony with top vendors for the decor and catering services.
The melanin bride gave us an impeccable bridal hairstyle goal with this look. She wore a side-parted frontal lace bun hairstyle.
The talented makeup artiste did an impressive job with their flawless and mild makeup application that remained intact even after minutes on the dance floor.
The bride used white lace to tie her bust to avoid showing off her full cleavage on the dance floor after realizing the gown was slightly big for her.
She wore simple diamond stud earrings and a bracelet that matched perfectly with her white gown.