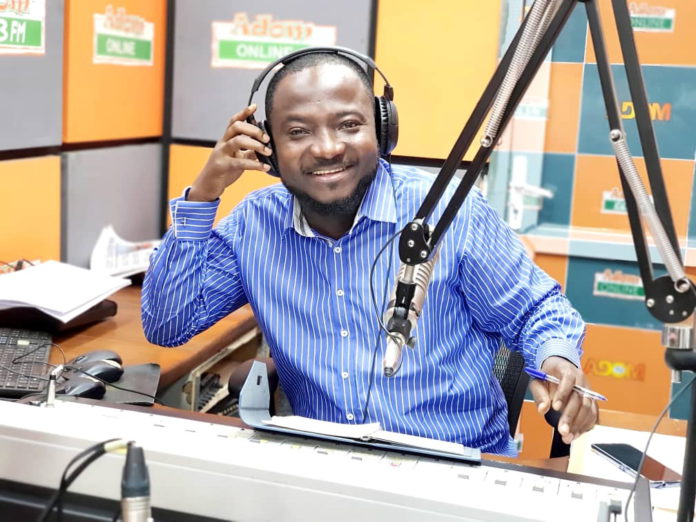 It was Mary Anne Radmacher, a famous American author, and artist, who once said, "courage doesn't always roar. Sometimes courage is the quiet voice at the end of the day saying, 'I will try again tomorrow.'"
Newt Gingrich, an American politician, historian and author, also once said, "perseverance is the hard work you do after you get tired of doing the hard work you already did."
The story of the ever-vibrant and smart radio and television presenter, Chief Jerry Forson, is a practical representation of the above wise sayings.
Born into a family of eight – four males and four females, CJ – as he is affectionately called on Adom FM's Dwaso Nsem and Adom TV's Nnawotwe Yi – was brought up in a Christian home as his late father, Apostle Godman Forson, was the Founder of Gospel Truth Ministries International, a church CJ still attends.
His father hailed from Gomoa Dominase in the Central Region, while his late mother hailed from Akyem Achiase in the Eastern Region.
Growing up was, in his own words, not easy: "I didn't come from a rich family;
if my parents had died while we were in school, things would have been very difficult. You can image eight of us."
Education
He told adomonline.com in an exclusive interview that, in spite of the ups and downs, his parents toiled to see them through to stages of self-reliance before God called them.
He attended Winneba Senior High School, popularly known as Winnesec, and proceeded to read Purchasing and Supply at the then University College of Management Studies in Accra.
He pressed on to acquire a degree in Philosophy at the International Christian University.
But for COVID-19, the experienced and deep-thinking presenter would have been, by now, pursuing law to further equip himself for the challenging radio and television work.
"We are looking forward to furthering our education, especially in areas of law and politics. In fact, but for COVID-19, I would have been in school by now," he said.
Love for journalism at age nine and the broadcast journey
"Radio – and journalism, for that matter – is something that has been my passion from childhood. I remember when I was between nine and 11 years old, anytime my father turned on the radio – those days of Ghana Broadcasting Corporation's Maame Afia Konadu and others – I was curious and asked myself, 'how does it work?'
"'Who are those people speaking in the box?'"
Jerry adds that "I was fascinated and said 'I want to also speak in the box (radio diffusion box).' So the passion kept growing while I grew up."
The easygoing yet tough-talking presenter, as evidenced in his love for broadcasting from childhood, did not waste time going after what was dear to his heart. Right after secondary education, he started his journey to 'speak in the box.'
"So I went to my literature mistress – Ms. Koomson – back at Winneba and told her I wanted to start from somewhere. So, those days, Radio Peace had started at Winneba and the literature mistress had friends there; so, she took me to meet the Director at Radio Peace, who had been Director at GBC, Kwasi Tagoe. It was at Radio Peace and at the feet of the broadcasting colossus that I laid the foundation of my communication career. And, this beginning was as humble as the opportunity to be on 'practical attachment.'
"The man would bring a blackboard and teach us vowels, consonants and pronunciations and all that; so, I started practicing reading of news in English – though I was not on radio yet. He would make me read and put on cassette and listen to me with rapt attention.
"I remember once he was travelling and the lady presenter for the lunch programme was not there, so the Programmes Manager asked me to sit in. I had never been on air but the man was listening to the station at that time and heard my soothing voice; and, that was it!"
He said, after the show, he got the opportunity to present news, host the mid-morning show and support the morning show host. "I learned a lot at Radio Peace."
After his attachment at Radio Peace, CJ began to face reality in looking for a job. From one disappointment to another after he had travelled to Accra, the young broadcaster ended up paying technicians for his demo at radio stations but to no avail.
He, however, persevered and by going to Oda in the Eastern Region – after the Accra hustle came to naught. His twin brother, Daniel Forson, knew a pastor at Oda who, after working with him for some time, spoke to somebody at Biyac FM for a job opportunity. But, there was none.
"I wanted to work but the manager said they couldn't employ me unless it was just for attachment. So I had to pay GHC 300.00, out of which I managed to pay half, GHC150.00. But just as it happened at Radio Peace, I sat in for a mid-morning presenter and that was it. I rose to become a morning show host, played almost every show except Sports and News. I eventually became a Programmes Manager and they even refunded the GHC150.00 I had paid. I was popular and was known as Jerry K," he recounted.
After more than three years there, Jerry Forson lost his mother and that really affected him and so he had to relocate to Accra where he joined Pink FM and Accra FM until eventually the Multimedia Group.
But before joining the Multimedia Group, due to some circumstances, he ended at home for more than one year without a job – a man with a wife and children. Life, according to him, was unbearable and it was the lovely wife who was there for the entire family.
And, as fate would have it, the opportunity to work with Adom FM came and he took it with all his heart and has promised his cherished audience that, "I've come to stay" after expressing his gratitude to the management of the Multimedia Group.
Strength
One of his unique traits is his voice. As he puts it, "one of my strong points is my voice" and is reflective on the love he gets from the audience.
He is also known to be very well read and asks intelligent questions during his shows.
Kumasi Asante Kotoko
In a typical day, CJ loves to read, read and read. He also loves to visit the beach to commune with Mother Nature as he prepares to share his rich experience with his audience.
There are two football teams dear to his heart, though he appreciates all Ghanaian teams. His favourite clubs are Kumasi Asante Kotoko and Manchester United.
Love for Ghana

As a nationalist, CJ has always been interested in contributing his quota to the development of Mother Ghana through the media and even through what he wears.
This explains why he most of the time flaunts Made-in-Ghana attires. His designer, Ikeling Clothing, makes sure he sparkles with special designs.
Family

CJ is happily married with four children, his wife being a twin like him. They are blessed with twins as well.
Advice

"I am someone who believes in the process" is his mantra. From his experience, patience and perseverance are key to being successful in the media.
He, thus, urged all to trust in the Lord and wait for God's appointed time as is evidenced in his life story.
He also urged fellow broadcasters to be loyal and build integrity for those are the virtues posterity will remember.