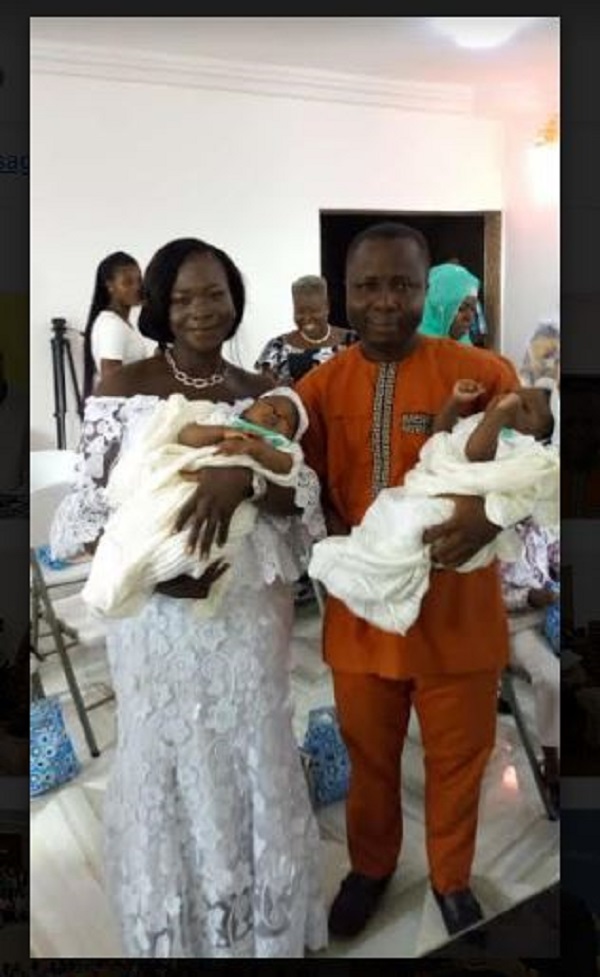 A pregnant sanitation worker freed from the Kumasi Central Prison with the support of Crime Check Foundation (CCF), a Prison NGO, has named her twin baby boys after the journalist who helped rescue her, Ibrahim Oppong Kwarteng.
These boys will have been born in the Prison if not for the interventions of the Foundation with support from some benevolent organisations and individuals. Their names are Blessing Ibrahim Kwarteng and Nhyira Ibrahim Kwarteng.
The Ceremony, which took place over the weekend in Accra saw the overjoyed mother expressing gratitude to the Almighty God for a safe delivery.
The heavily pregnant woman at the time, before her rescue was convicted to a fine of GH¢ 1,200.00, or in default serve a five-year jail term for biting the hand of a family member during a fight.
Mr Ibrahim Oppong Kwarteng, the Executive Director of CCF, whose Foundation has ever since solicited support for Ama said prison should not be the portion of innocent babies, who have done no wrong.
He said, unfortunately, some judges at the Lower Courts violate the law by throwing pregnant women into prison.
ALSO: Starving lions at Achimota Zoo?
"We thank God for using the Foundation to rescue these beautiful kids from the prospects of a prison sentence, we pray they grow to declare the glory of God," he added.
Mr Kwarteng, who is also the Ambassador Extraordinaire of Prisons, described Ama's predicament as the one from "Prison to Grace."
He expressed gratitude to the Almighty God for taking care of Ama throughout the pregnancy stages till delivery.
He also thanked all good Samaritans who supported the activities of the Foundation to support Ama and others released from prison.
Madam Anima told the GNA, she was very happy to deliver the twins safely and expressed gratitude to God for the protection and care throughout the process.
She also thanked the Executive Director, the entire team and benevolent individuals and organizations who supported her through the trying moments as a pregnant woman.
"I thank all for your prayers," she added.