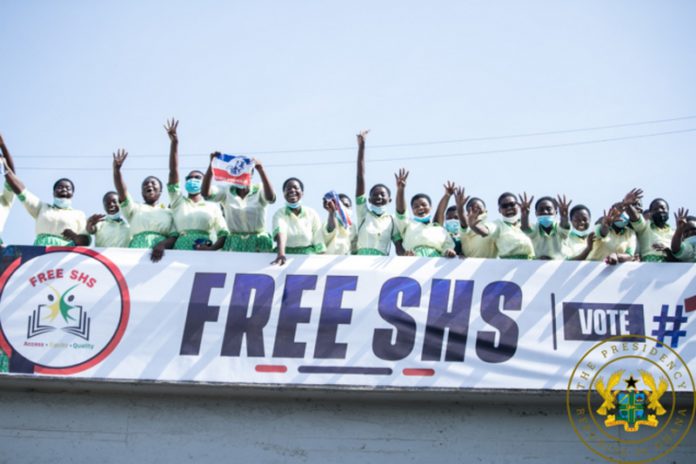 Member of Parliament for Ningo Prampram, Sam Nartey George says the government's Free Senior High School (SHS) programme should be selective instead of free for all.
According to him, the wholesale model being employed by the government is collapsing the public educational sector and thus must be remedied.
He was speaking on the sidelines of the #OccupyBoG protest where Minority members in parliament are marching to demand the immediate resignation of the governor of the Bank of Ghana, Dr. Ernest Addison and his deputies.
The group is accusing them of what they described as gross incompetence and mismanagement at the central bank leading to colossal losses and a worsening Ghanaian economy.
"Free Senior High School? What is free about senior high school today? You send your child to school for four weeks and you have to pay a lesson teacher for 20 weeks to cover up. Paying the lesson teacher is more expensive than if your child was in school before free SHS.
"The Finance Minister himself doesn't agree with that policy because you can't have a policy where even people who were paying $12,000 in Junior school in year nine come to senior high school and you say they can't pay. Free senior high school must be selective. Why are we not issuing LEAP grants to everybody in Ghana? Why are we targeting and selecting?" he said.
He explained that just as LEAP grants are distributed to poor and underprivileged persons in the country, the same should be done with the Free SHS policy.
"The point I'm making with leap is you target those who are vulnerable. You don't make it for everybody. If you had decided you wanted to give leap to every Ghanaian the government would have collapsed and that's why we're saying that the educational sector is collapsing because of this wholesale approach.
You must allow those who can pay, pay. You should be able to give subsidies to some people and some people must be able to get it for free," he said.
ALSO READ: