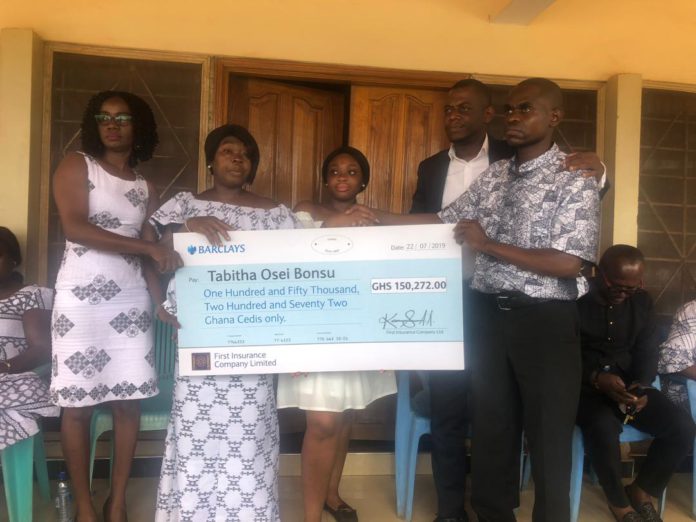 First Insurance Company Limited has paid life insurance claim of Gh¢ 150,272 to the family of a deceased client, Raphael Boama Bonsu, in Kumasi.
The amount, which was one of the highest in the Life Insurance segment of the industry, was paid to the policyholder, who was a Senior Channel Executive at the Multimedia Group. He passed late last year.
Acting Deputy Head of Business Development at First Insurance, Dela Horsu, who presented the cheque to the family on Saturday, noted that Life Insurance penetration in Ghana continues to suffer despite public education on its importance.
The Ghanaian Life Insurance sector has recorded mixed fortunes over the years, largely because of low patronage even though it is considered to be a high-growth segment in the insurance industry.
In April 2016, a report by Timetric Insurance Intelligence Centre forecast total life premiums would reach GHS1.6bn (US$601.3m) by close of 2019 as a result of the growth of the middle class and the expansion of micro-insurance products.
But, according to Mr Horsu, the current rate of about 1.3 per cent remains an industry challenge. He blames it on misconception suggesting that life insurance is difficult to access. He believes the situation puts the lives of many people at risk in times of unforeseen situations.
"Most people leave on paycheque to paycheque; so, loss of the breadwinner's income creates a financial burden in families", he observed.
However, the most sensitive area in insurance where Ghanaians have a bad perception of the industry is claims.
But Mr Horsu assured that First Insurance Company Limited, which is one of the fastest-growing insurance companies in the country after being licensed by the National Insurance Commission in 2015, is well-positioned to settle claims promptly.
He noted that the more an insurance company is willing to pay claims, the more customers have the confidence to do business with them.
According to Mr Horsu, research conducted by the First Insurance Company reveal that quite a number of people in Ghana are not adequately protected.
Mr Hosu explained that the essence of Life Insurance is to replace the breadwinner's income in the event of premature death, adding, "Life Insurance is always important at the early stage of one's life when you have young people depending on your income".
The mission of First Insurance, according to Mr Horsu, is to help middle-income families become adequately protected and financially-independent when death occurs to the breadwinner.
"First Insurance believes that, by providing families with large sum assured at an affordable price, people can create generational wealth for their families" Mr Hosu stated during the presentation ceremony.
He said First Insurance has uniquely designed two main products called Buy Term and Invest in Mutual Funds and Education Policy, which is a family-centred product providing financial soundness to the "large underserved middle-income segment of the market".
Source: Adomonline.com