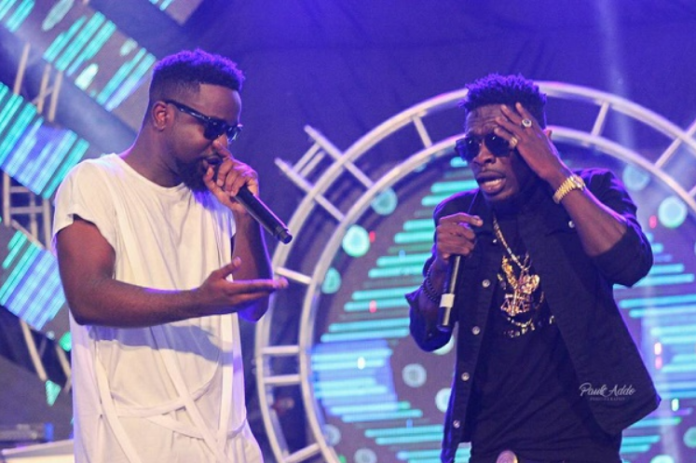 A number of industry players in the music sphere have taken to social media to congratulate award-winning Ghanaian dancehall artiste, Shatta Wale over his collaboration with American music icon, Beyoncé on her Already song.
Sarkodie was was one of the Ghanaian-based musicians who lauded the "Ayoo" hitmaker for the mileage that got him to trend at number eight, worldwide.
READ ALSO: Sarkodie rates Beyoncé's song with Shatta Wale
Sark said: That's 'POWER' Not the usual 'touch of afrobeats', it's AFROBEAT!! Represented well.
It was therefore expected that Shatta Wale would reciprocate the gesture when Sarkodie was recently given the BET Best International Flow award but that hasn't been the case and is not about to be the case.
ALSO READ: Video: Sarkodie reveals why he released 'Advice' song to caution Shatta Wale
Shatta Wale reacting to Sakordie's award in an interview on Metro TV's Good Evening Ghana described Sarkodie as 'fake' hence his decision not to congratulate him on his award.
Shatta explained that he found it strange that Sarkodie would congratulate him publicly to signify that all was well between them when indeed all wasn't well.
ALSO READ: How Ghanaian entertainers reacted to Sarkodie's BET win
With Sarkodie, the whole problem is that, he is portraying a lifestyle that will affect generations to come. I don't see congratulating him as important. I don't dislike him [because] he is a very good guy that I worked close with sometime ago but I think he has a wishy-washy brain. He thinks to be in the industry, you have to live a certain kind of lying life, Shatta said.
Source: Adomonline.com | Dennis K. Adu | dennis.adu@myjoyonline.com