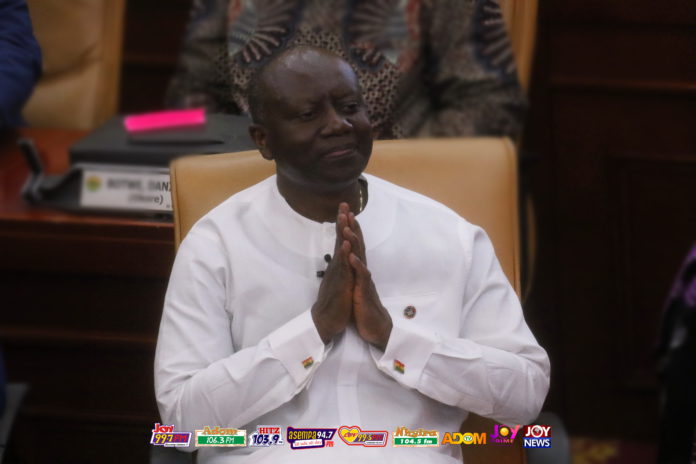 Finance Minister, Ken Ofori-Atta, has detailed the use of the $500 million to be generated from the listing of the controversial Agyapa Royalties Limited on the London Stock Exchange (LSE).
Speaking on Joy News' Newsfile, the Finance Minister noted that the capital to be generated from the listing will be used for three main objectives.
According to him, 20 per cent of the $500 million will be used for the acquisition of other mineral royalties as government plans to build the largest royalties company in Africa.
According to the Finance Minister, a $2 million acquisition of other royalties could grow into $38 billion with time (did not disclose the time frame) if managed properly.
The second objective of government, he disclosed, is to invest in the entire value chain of gold production. The construction of a world-class gold refinery would be built to process and refine gold mine in the country.
Government, Mr Ofori-Atta also stated, will use portions of the capital raised to invest in mining communities in the area of tourism, infrastructure and education.
"Investments in the area of tourism and education in mining communities have not been properly done and its tragic if you look at Tarkwa and Obuasi, so investment will also be done in those areas," he intimated.
OTHER STORIES:
Speaking further, the Finance Minister posited that, resources will be dedicated to support Ghanaian miners to own gold mining companies.
"Then also is the Ghs 100 billion Obaatanpa programme and the construction of district hospitals as well as the creation of a national mass housing construction plan to solve the anaemic problem of housing deficit," he added.
The third objective, he explained, is the creation of a National Development Bank which would serve as a wholesale bank to support the nation's Venture Capital Trust Fund, Exim Bank and Ghanaian banks.