Information reaching Adomonline.com suggests that the former President of Musician Unions of Ghana (MUSIGA), Bice Osei Kuffour, popularly known as Obour, left an amount of GH¢ 265,000.00 in the organisation's account before his tenure ended.
This was confirmed by MUSIGA's current treasurer, Mr Samuel Kofi Agyemang, who explained that, the money is yet-to-be received by the Union due to closure of Midland Savings and Loans, where the investment was made under the signatory of Obour.
Midland Savings and Loans was part of the 23 savings and loans and finance house companies which licenses were revoked by the Bank of Ghana last year.
MORE STORIES:
Due to that, payments of claims have been issued to the current President Bessa Simons to make way for effective payment through the Consolidated Bank Ghana as soon as possible.
Read document below: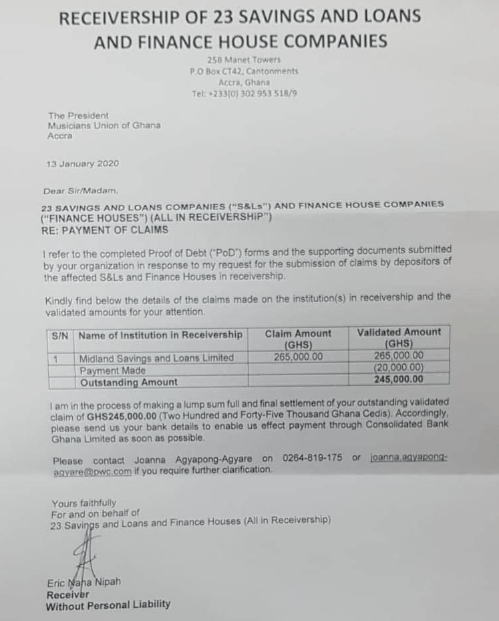 Adomonline.com's checks indicate that apart from this amount invested with Midland Savings and Loans, MUSIGA during Obour's tenure also invested some money at Menzgold and other financial institutions.
Obour, whose tenure ended on August 11, 2019, came under heavy criticisms during his administration where many industry players accused him of misappropriating funds.
But speaking to Lexis Bill on Joy FM, Obour insisted that the two million cedis government support fund from the National Democratic Congress was used to conduct a comprehensive research for the players in the Music Industry and for the organisation of the Ghana Music Week.
Meanwhile, Bessa Simon's appointment was confirmed at a meeting on Friday, August 30.
MUSIGA's National Executive Council also appointed former Second Vice President, Rev. Dr Thomas Yawson as Acting First Vice President of MUSIGA.