Venue: Borg El-Arab Stadium, Alexandria
Date: Sunday, November 13, 2016
Kick off: 1600 GMT (1800 CAT)
Radio coverage: From 1500 GMT on Joy 99.7 FM with Ridwan Asante and George Addo, Jnr..
TV coverage: Joy News channel Midday; SuperSport 3
Online coverage: Live buildup from 1500 GMT @JoySports on Twitter with Gary Al-Smith and Fiifi Forson, Liveblog on this website from 1200 GMT with Kweku Arhin
The fact that Brigadier General Dominic Oneya (Rtd) is the head of security officer for this matchup tells us how seriously stakeholders are taking things. Oneya is a decorated Nigerian army man and a thorough football, too, having served as president of the Nigerian FA before.
And it is why all reports coming from Egypt paint a picture of a very relaxed atmosphere despite the enormity of this 2018 Fifa World Cup qualifier.
Avram Grant is walking in Alexandria with two body guards at all times. His Egyptian hosts are leaving no stone unturned in ensuring his safety as he takes the west Africans through the final preps ahead of this massive showdown.
Anticipation of a Black Stars game has not been this fevered in years – one has to go back to the final of the last African Cup to get a sense of the buzz. Admittedly, Ghanaians are generally watching with an eye open and an eye closed, just to make a point that they are not really interested in the game.
But don't be fooled. They are.
And the Black Stars face must know that their country IS behind them ahead of this huge test against the Pharaohs. Ghana dropped points at home to Uganda on matchday one of World Cup qualifying. This game is widely believed to be the one to decide who goes to Russia in 2018 in a group featuring Uganda – who lead the group after winning 1-0 on Saturday – and Congo.
A victory for Egypt will see them extend a five point lead over the Black Stars after the Pharaohs' opening day victory over Congo. But according to Hassan Honamah of ON Sport, revenge for the humiliation of 2013 is fueling the desire on Sunday.
Watch video
Special measures
The Egyptian Football Association has confirmed that the venue will open at noon local time (10am Ghana time), six clear hours before kickoff.
80,000 tickets have been sold out since Thursday, a clear measure of how starved this football nation has been. Fans have been largely shut out of games in Egypt due to security challenges that have lingered since the political uprising of the 2011 Arab Spring, and executive director of the national body Tharwat Sweilam is calling on fans to be well behaved.
"Every ticket has its own entrance gate number written on it. We hope the fans to be committed to ensure easy access for everyone."
High-ranking government officials, including 10 cabinet ministers will be there. Of interest are the 300 seats allocated for patients from a children's hospital in a move to bond even more with the fans.
The atmosphere will be be lit, with lasers, stadium flares and colorful tifo expected to be commonplace. 
Pre-match camping
Ghana initially planned to camp in Turkey, but later switched to Dubai. Assistant Ghana coach, Maxwell Konadu, has defended the decision to camp in Dubai ahead of their crucial World Cup Qualifier against Egypt.
 "The whole team is assembling in Dubai to train and get ourselves ready. We don't need any distractions as at now. We want the team to be fully concentrated before we head to Alexandria," he said.
"It is one of the main reasons management decided to send the team to Dubai to train, concentrate and rest very well before we go."
"This time around I think 80 and 90 percent will be tactical work because we've seen the Egyptians we have watched their tapes, we know their players the injured ones and those who are fit we know everything about them."
"We only have to go there and put one or two tactics in place and hope that it works on the day."
Egypt have been camped inside their country. Word from there has been scanty, as the nation have allowed the side to train in peace, aware of the scale of the job ahead.
New faces
Ghana welcome new boys Andy Yiadom and Alhassan Wakaso for their first callus as Avram Grant named a 23-man squad. Yiadom plays for Barnsley in England while Wakaso is based with Portugal's Rio Ave.
Egypt's squad is made up of 13 local players including Wadi Degla's veteran shot-stopper Essam El-Hadary and seven others from the 2016 Caf Champions League runners-up Zamalek, as well as five players from Al Ahly. AS Roma star Mohamed Salah and Arsenal's Mohamed Elneny are among the foreign players on the list.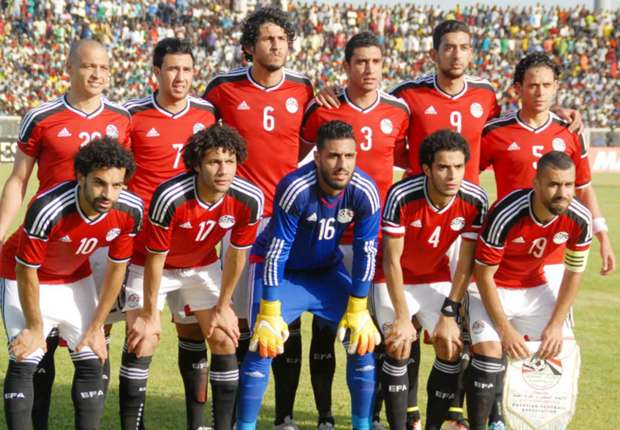 Injuries
Al Ahli Dubai's Asamoah Gyan and Juventus' Kwadwo Asamoah are out due to injury, while Alfred Duncan was called up but also got crocked. In his stead, Chicago Fire's David Accam was given a late call.
"I feel bad because this is part of the important games in the qualifiers, personally I was down when I suffered the injury because I was prepared mentally for this and before it happened," Gyan said.
"It's part of the game, just like they say the soul is willing but the body is weak, therefore I just have to show my support to the players and pray so that we can go and do something better for Ghana."
That aside, the Black Stars have no injury worries ahead of Sunday's game in Alexandria. They are expected to leave for Egypt on Friday for the game which will be played at the Borg Al Arab Stadium.
Meanwhile, the team's fitness regime received a boost as trainer Jamie Lawrence joined the squad. Lawrence, who worked with Ghana during the last edition of the Africa Cup of Nations in Equatorial Guinea has joined the team's camping base in Dubai.
Egypt lost the battle to keep Sporting Braga striker Ahmed Koka Hassan fit after he failed to recover from a muscle injury. But Zamalek star Bassem Morsy, who started upfront with Mohamed Salah in Congo, is good to go.
Does he feel pressured? "We are all doing our best to win this match, however it's just like any other game," he told BeIN Sport on Thursday.
Stars boss confident in injury-hit Ghana
Avram Grant is optimistic of victory despite missing these key players.
"First I am sure the team is happy. We showed that with the right team spirit and obviously if we are playing like a team, we can achieve a positive result. We did it in Africa. I want the key players but they are not available, and this is why we have a big Squad and we need to show great fight spirit to win without them."
"I can promise only one thing that we will have a good result for this game," he said. "If the preparations is good like we had before the last Africa Cup of Nations, we will always do well."
"Every single player and the entire team will give everything to ensure we play well and get a good result in Egypt. It will be a tough game but we do everything to get a good result, we did it in the past and i know we will do it again because i have told the players that it is a big challenge and we are always looking for challenges like this."
Egypt aware of Ghana threat
Egypt coach Hector Cuper wants his team to be cautious. With fervour reaching dizzying heights in the country of his employment, and the populace expecting not just a win, but a stylish one, the Argentine is having to remind fans that he is no magician.
"I trust my squad and we are confident in our abilities to win," he said.
"Ghana is a big team but the 6-1 result [when the Black Stars walloped the north Africans in November 2013] is exceptional and rarely happens in football," he said.
"I am no magician and if I were, so why do we work? There is no one way to win. I trust my players who are determined to clinch the three points," Cuper explained.
Egypt has made a good start in the World Cup qualifiers with an away win against Congo.
"Injuries make me sad but I trust the substitutes. I believe in the team as a whole, not individuals. I don't care about any statement made by the Ghanaians," Cuper added.
Egypt top the group after beating Congo 2-1 in the first round of games. 
Pharaohs know importance of Ghana win
Egypt midfielder Ibrahim Salah believes their qualification to the 2018 World Cup will depend on this game.
"The game is really important for the Egyptian football and I hope for a win to make the World Cup qualifiers easier for us," Salah said.
"I don't care if I will play against Ghana or not, all I care about is to qualify to the World Cup."
Ibrahim Salah plays for Egyptian side Zamalek and was part of the team that reached the final of the CAF Champions League.
Are Ghana predictable?
A sticking point to Avram's methods, which he has had to deal with is the constant need to prove he is not lazy.
It's become normal to hear complaints in local Ghanaian media about the predictable callups to the national side and unchanging style of play since the Israeli took over almost two years ago.
But the boss has pushed back, just over a week after his latest squad to face Egypt on Sunday featured similar names from many squads named in the past year. This time, only two new names were seen – Andy Yiadom (Barnsley, England) and Alhassan Wakaso (Ario Ave, Portugal).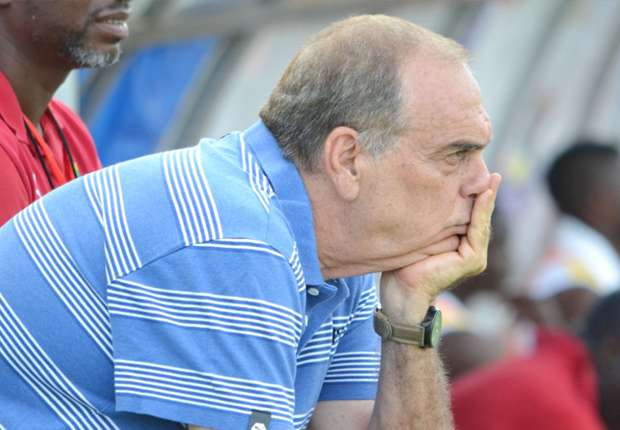 "First of all, if I was not in Ghana it would be a compliment. In any other country if there's stability, the people are happy," Grant said.
"You need to create stability. How can you succeed when you don't have stability? When you are shaking the team every week, you cannot succeed not in a team, not in a club and not in national team."
"One of things we wanted to create is the stability. Unfortunately we don't have stability that we want because [Asamoah] Gyan injured alot, Dede [Ayew] was injured a lot, Kwadwo Asamoah, Rabiu [Mohammed] is injured, Kwasi Appiah is injured so we didnt have stability like I wanted when everyone was there."
"If people say this, I take it as a compliment. If you have stability it means we are doing a good job. In every organization when there's stability people are happy."
Egypt tactics
Overall, there have been 24 games between Egypt and Ghana. Egypt have won 11, Ghana have won 8, and there have been 5 draws between the two sides.
The Ghanaian media have spent a lot of time amplifying the strengths of their north African rivals. It's a show of respect that is key, but Egypt are not where they are by chance – they are where they are because they are still yet to find world-class form.
Egypt have weaknesses.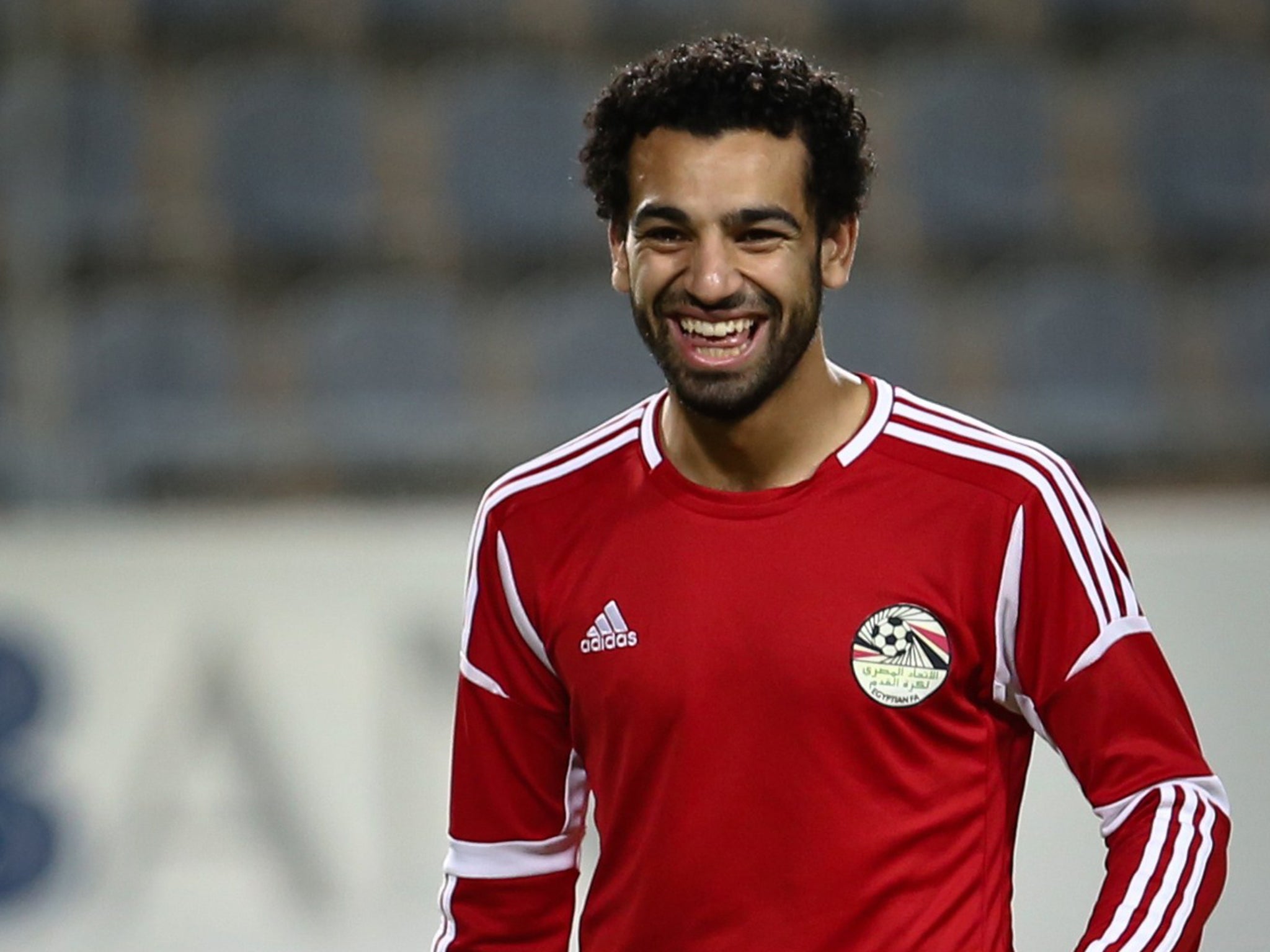 Although Cuper has done well with Egypt's tactics since he got the job, this game is really unlike any he's played in his tenure. Ghana are more physically prepared, meaning that the threat of in-form Salah on the wings can be nullified.
And that's a big deal if Ghana want to win, because Cuper's tactics have revolved around focusing on going through the Roma star as well as Mahmoud Trezeguet.
This will be a game of speed. The fittest and fastest will win. But Cuper has spent a lot of time on his defense as well, because he seems not to have settled on a centre-back pairing, yet. There's Ali Gabr, Ahmed Dweidar, and Ahmed Hegazy. All three have their pluses, but as a unit, a fluid forward line of Ghana strikers and midfielders can unsettle them.
Up front, apart from Mohammed Salah's marauding runs, there is no obvious choice. That's why Cuper has had to call up Hossam Paolo, a two-time Egyptian Premier League topscorer.
The pitch. The crowd.
It must not be for nothing that Egypt have lifted a temporary ban on very high numbers of fans in stadia to allow a minimum of 75,000 fans into the stadium. 
A nation, hungry for a first World Cup since 1990, is unleashing its vaunted 12th man at the Black Stars, but the opposing coach is not scared. "It's better to play in a stadium full of fans than an empty one," Grant said in the pre-match press conference in Alexandria on Saturday night.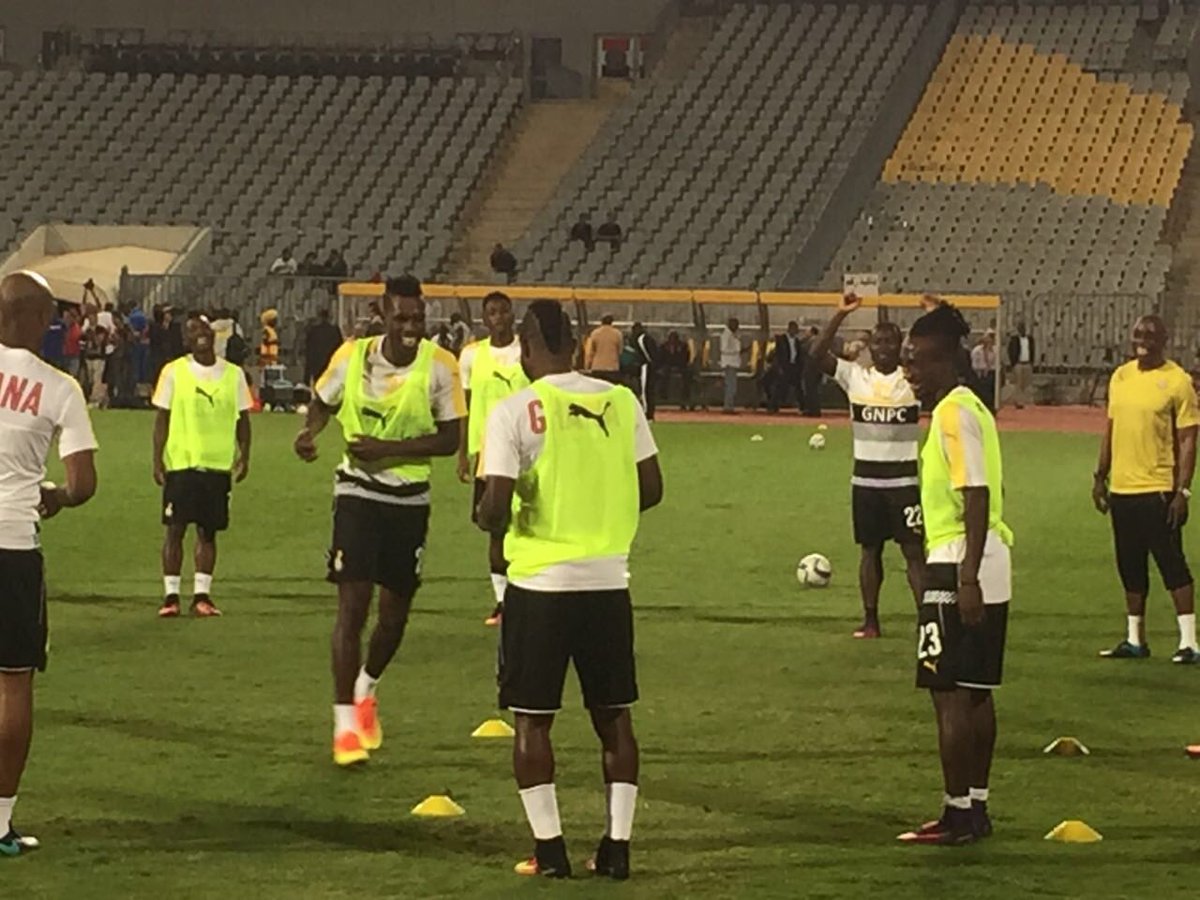 "I was surprised when I watched Al Ahly play as i was monitoring a Ghanaian striker Antwi in an empty staduim. Playing in a full capacity stadium is better than what happened with Ahly."
Ghana have been used to playing in some incredibly poor pitches in home games, but they've been wowed by the sleek surface awaiting them awaiting them. Grant: "I inspected the pitch before the news conference. Borg El-Arab's pitch is amazing, it's better than the pitch in Ghana."
You can trust him not to miss an opportunity to blast his employers for what should be obvious.
Lineups
After training sessions of both camps all week, it is no surprise that the two coaches will go for hard workers with pace.
Predicted Ghana XI:
Razak Braimah, Harrison Afful, Baba Rahman, John Boye, Daniel Amartey, Afriyie Acquah, Mubarak Wakaso, Andre Ayew (C), Frank Acheampong, Christian Atsu, Jordan Ayew.
Predicted Egypt XI:
Essam El-Hadary, Ahmed Fathi, Ali Gabr, Ahmed Dweidar, Mohamed Abdel-Shafy; Tarek Hamed, Mohamed Elneny; Mohamed Salah, Abdallah El-Said, Mahmoud Trezeguet, Bassem Morsi.
VIDEO PREVIEW
What we know ahead of the crunch tie.
Stats
Ghana have played Egypt 20 times in category A matches which includes international friendlies and competitive matches.
The Black Stars have won six of those encounters with Egypt winning nine and five matches ending in a draw. Since 1970, this is how things have stood, per Ghanasoccernet.
2014 FIFA World Cup qualifier playoff second leg- [Egypt 2-1 Ghana] : Egypt managed to avenge that defeat but the win at the Cairo Stadium on November 19, 2013 could not guarantee qualification to Brazil.
2014 FIFA World Cup qualifier playoff first leg- [Ghana 6-1 Egypt] Ghana recorded a mammoth 6-1 win over Egypt at the Baba Yara Stadium in Kumasi on October, 2013.
Friendly 2013: Ghana beat Egypt 3-0 in Abu Dhabi to prepare for the 2013 Africa Cup of Nations.
2010 Nations Cup finals – Ghana 0-1 Egypt Ghana with a youthful side reached the final of the Nations Cup in Angola but were beaten by a late Mohammed Gedo strike in Luanda to miss out on the trophy
Friendly 2009- In February 2009, Egypt hosted Ghana and both sides shared the honours in a 2-2 draw.
Friendly 2002- This exhibition match was played in Cairo in December 2002 and it ended 0-0.
Friendly 2002- In early January, 2002, Egypt beat Ghana 2-0 in Cairo.
Friendly 2000- After the 2000, Africa Cup of Nations, Egypt beat the Black Stars 2-0 in Cairo which was played in Cairo.
Friendly 1999- Ghana prepared for the 2000 Africa Cup of Nations with a 2-1 success over the Pharaohs in November.
Friendly 1997- The exhibition match played in Seoul saw Egypt beat Ghana 2-0 .
Friendly 1996- In May, 1996, Egypt avenged the defeat suffered the previous year with a 2-0 win.
Friendly 1995- Ghana defeated Egypt 2-1 as both sides tested their battle readiness for the 1996 Cup of Nations finals in the friendly honoured in Cairo.
Friendly 1994- Egypt won their first friendly match against Ghana in Cairo in August 1994 with a 2-0 scoreline.
Friendly 1994- The Black Stars prepared for the start of the 1994 Africa Cup of Nations with a second-leg of a friendly against Egypt in a 1-1 draw played in Accra.
Friendly 1993- Ghana played out a 0-0 draw with Egypt in a test match in Accra in December ahead of the 1994 Africa Cup of Nations finals.
1992 Nations Cup finals [Egypt 1-1 Ghana]: Egypt met the Black Stars in the Group stage match played in Ziguinchor at the 1992 Africa Cup of Nations in Senegal. The Pharoahs were beaten 1-0 by the Black Stars.
1970 Nations Cup finals- [Egypt 1-1 Ghana] Sudan hosted the 1970 Nations Cup finals and the Black Stars settled for a 1-1 draw in Wad Madani during the Group stage.
RELATED
Click here for photos of Ghana training
Click here for photos of Ghana touchdown in Alexandria
—