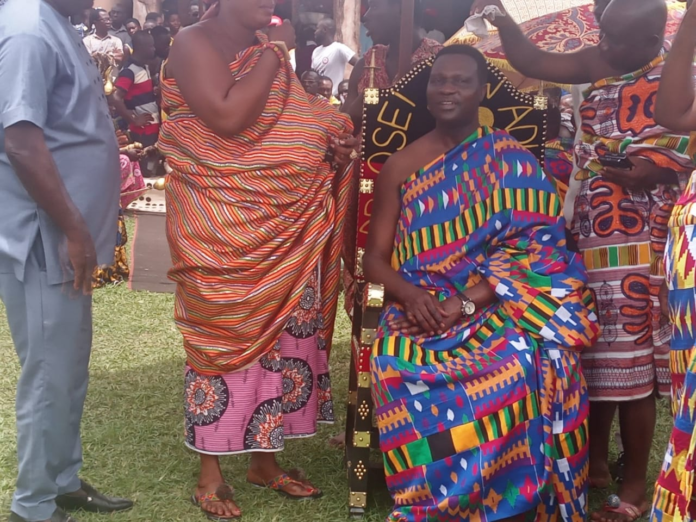 Education Minister, Dr Yaw Osei Adutwum, has been installed as the development chief (Nkosuohene) of Tepa in the Ashanti region.
He has, thus, been given the stool name, Nana Yaw Adutwum I.
Speaking through an interpreter, the Paramount Chief of Tepa, Nana Adusei Atwenewa Ampen I, said he conferred the chieftaincy title on Dr Adutwum for the role he has played in championing education at Tepa and its environs.
He highlighted how the minister has moved in to address various educational infrastructural challenges in the area from basic, senior high and tertiary.
He particularly commended the minister for his role in making the Tepa Nursing Training operational.
The Tepa Traditional Council in a citation presented to the minister said they are proud of him based on his contribution towards education in the area.
"Mother Ghana is proud of you. You and your hard work have always been beyond our expectations and have contributed to our journey of success in this community. Thank you for choosing to be with Tepa community. Tepaman will forever be grateful for your immense contribution to the development and expansion of educational facilities in the municipality. Thank you for motivating and encouraging us with your actions and words over the years. May you continue to inspire us for many years to come. We are indeed proud of you, the citation read."
After the installation, the Tepa Traditional Council then urged the Education Minister to pay serious attention to the Tepa Senior High School to address some critical challenges facing the School.
The traditional council called on the minister to particularly address infrastructural challenges facing the school.
The Education Minister, on his part, said he was proud to be installed as a chief in the area, and assured of playing any role possible to spearhead development in the area and make Tepa a module for the whole Ghana.
The minister also promised to address various challenges facing Tepa Senior High.
"You talked about Tepa Senior High School. The school has always been on my mind and it is on my priority list. After being installed a chief here, that means that I will give it double attention. I will do whatever I can to ensure the development of Tepa."