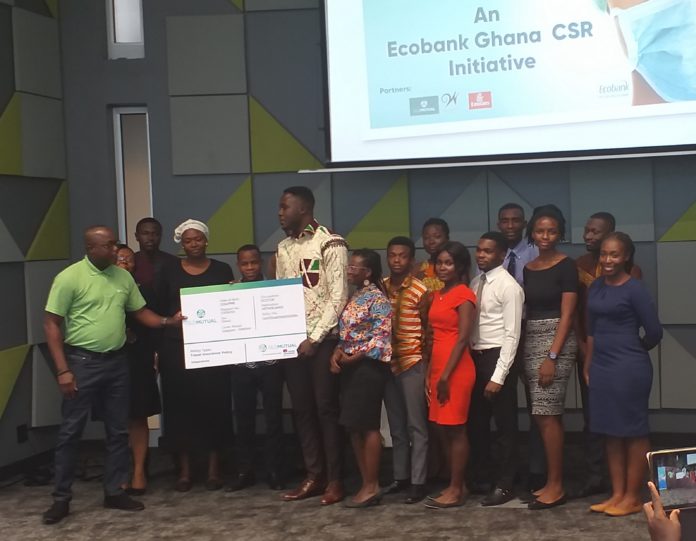 Ecobank Ghana and its partners have provided support for some 16 medical students to go study abroad as part of the banks annual Sponsored Medical Students Exchange Program.
The 16 were selected from the four public universities in the country – University of Ghana, Cape Coast University, University of Development Studies and the Kwame Nkrumah University of Science and Technology.
Each of the beneficiaries walked away with US$1,000 each from Ecobank, Woodin Summer Jackets from Woodin, over €72,000 of insurance cover from OldMutual Life Assurance and 30 per cent discount on Emirates tickets to their final destination.
The countries they are travelling to include Germany, USA, France, South Africa, Polland, and Latvia.
Managing Director of Ecobank Ghana, Dan Sackey noted that the bank has had a long standing relationship with medical students and to date, they have sponsored over 120 students to go study abroad.
He noted that sponsorship has been expanding over the years, saying that last year the package benefitted students from only KNUST and UG, but this year they have included UCC and UDS.
Dan Sackey said Ecobank is aware of the challenges in the health sector and therefore believe that giving more medical professionals the global exposure will position them well to bridge in the gabs in the sector.
He therefore charged the students to take the opportunity seriously and remember that the medical practice is a vocation to serve more than anything else, so they will become committed to humanity.
Head of Bancassurance at OldMutual, Othniel Kamassah said the total package for the 16 students is almost one million euros, comprising of €30,000 medical expenses and hospitalization abroad, €30,000 emergency medical evacuation, €300 emergency dental expenses, one ticket for family visitor plus €600 insurance coverage for that person.
Others include €6,600 for the repatriation of the policy holder's mortal remains in case of death, €3,000 coverage for accident death in public transport abroad, €3,000 for permanent total disability and a percentage of the sum assured for permanent disability.
Delali Benti-Enchill is the Head of Ready to Wear at Woodin, and she said they are keen on supporting youth education and they will continue to support any effort at providing young persons with skills for life.
The Federation of Medical Students Association expressed their gratitude to Ecobank and its partners for the kind gestures and promised to make the best of the opportunity.
A representative of Ghana Medical Association also thanked Ecobank and asked for the support to be expanded to benefit more students to bridge the growing gap in the doctor-patient ratio. 
Source: Samuel Dowuona