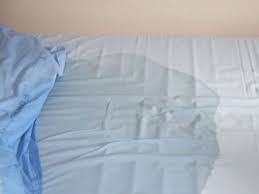 Medical Superintendent at the New Tafo Government hospital in the Eastern Region, Joseph Tambil, has explained that bedwetting is not a deliberate action by individuals who go through it.
According to him, the phenomenon can happen to anyone.
In spite of the perception that bedwetting is mostly a result of laziness and refusal of individuals to get up in the middle of their sleep, Mr Tabil said the situation could be more complicated than that.
ALSO READ: MMDCE's ordered to stop issuing permits for temporary structures
Speaking on Adom FM's Dwaso Nsem show on Thursday, Dr Tambil said it was important for families struggling with members with the condition to understand and know what the root cause may be.
"The situation could be from anxiety, infections, psychological or even hereditary. We do not have to shun these people; rather, we must show them love and maximum support" he explained.
Dr Tambil also explained that bedwetting could stem from eating habits and lifestyle, adding that medications to cure bedwetting are mostly used as a last option.