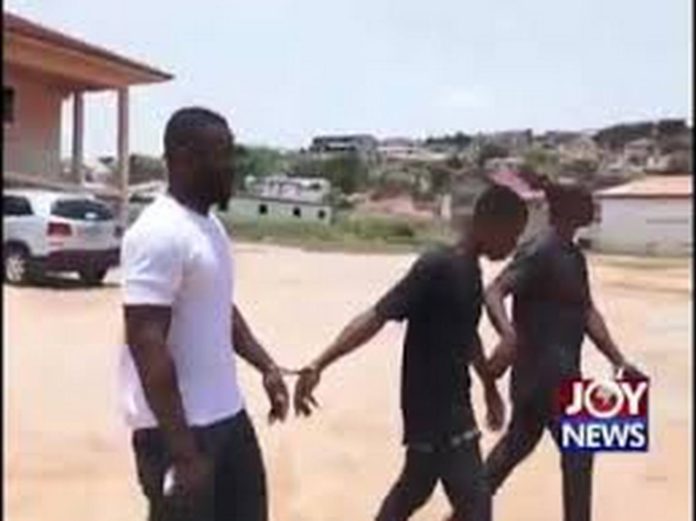 Francis Buabeng, the driver who together with his mate, beat up a uniformed police officer at Mallam has narrated his ordeal behind bars.
Starting with the aftermath of the issue, the driver claimed they were driven away from the Odorkor Police Station when they went there to lodge a complaint.
"On the day the incident happened, we went to Odorkor Police station to report but they sacked us and told us to lodge our complaint at the Mallam Police Station because that's where the incident happened," he narrated.
READ ON: Teacher accused of defrauding woman of GH¢60,000
According to him, in their bid to report the case at Mallam Police Station, they were arrested without given chance to present their case.
"The police had towed our car to Odorkor Station and when my mate went for a follow up and to retrieve our money from the car, he was arrested. Likewise, I went the following day with a hospital form but they ignored and went ahead to arrest me for fighting their colleague," he added.
Speaking on Accra-based TV3, monitored by Adomonline, he disclosed the video that went viral exposed them to serious beatings by police officers when they were behind bars.
ALSO: 3 Ghanaians pick awards for outstanding performance at Gambia School of Law
"The video went viral the next day so everyone knew our story; the police officers who recognised us will insult and beat us. We were sent to the police headquarters where we were beaten with handcuffs.
"They then moved us to anti-robbery office were the beatings continued till our faces became swollen.At that point I knew I had come face to face with death," he said.
According to Mr Buabeng, the police officer they assaulted came to his cell and threatened to have him imprisoned at the Nsawam Prison.
SEE ALSO: Teacher accused of defrauding woman of GH¢60,000
Samuel Agbotse, campaign coordinator for Amnesty International, reacting to the issue, advocated for an independent Police commission that will adjudicate issues concerning police and civilians objectively.
"Will you trust the police to investigate themselves and punish perpetrators; is it possible? There are few instances where they have done a good job but majority of complaints, we don't see the outcome that's why we are calling for an independent police commission," he said.