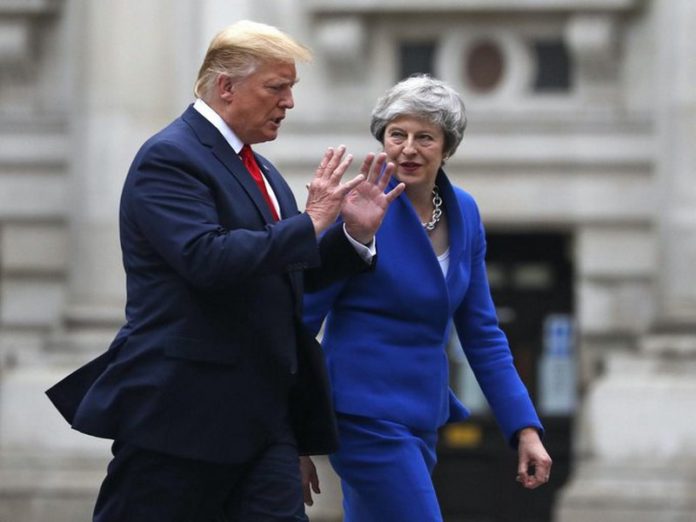 President Donald Trump repeatedly tried to demean Theresa May when she was United Kingdom Prime Minister during series of "humiliating and bullying" conversations, according to a United States (US) report.
The US president is said to have attacked Ms May as weak — calling her "a fool" in her approach to Brexit, NATO and immigration during phone calls held between 2016 and 2019.
Stunning new claims about Mr Trump's calls with world leaders were made by Carl Bernstein in CNN report, based on accounts from dozens of top officials privy to the conversations in real time or printouts soon afterwards.
"He'd get agitated about something with Theresa May, then he'd get nasty with her on the phone call," one source told Mr Bernstein, best known for his involvement in breaking the Watergate scandal.
Ms May reportedly became "flustered and nervous" during her conversations with the US president. "He clearly intimidated her and meant to," said one of the CNN sources.
Mr Trump's most savage verbal attacks have been aimed at female heads of state, officials suggested — with German chancellor Angel Merkel reportedly coming in for especially rough treatment.
Like Ms May, Ms Merkel was subjected to "near-sadistic" diatribes during her calls with the American leader. "Some of the things he said to Angela Merkel are just unbelievable: he called her 'stupid', and accused her of being in the pocket of the Russians," said one official.
However, unlike the ex-prime minister, Ms Merkel is said to have remained completely calm in the face of the rants, often reciting facts and figures in response, "like water off a duck's back".
The calls were felt to be so unusual that special measures were taken to make sure they remained secret, according to a German official — who claimed that the circle of people involved in monitoring the calls had been reduced.
By contrast, Mr Trump is said to have enjoyed friendly calls with Russian president Vladimir Putin and Turkish president Recep Erdogan, despite being unprepared and "outplayed" by these autocratic leaders.
One official said Mr Trump "thinks he can build himself up enough as a businessman and tough guy that Putin will respect him", while another said the conversations with the Russian leader sounded like "two guys in a steam bath".
The US president also "boasted" about his own personal wealth to heads of state such as Saudi heir Mohammed bin Salman and North Korean dictator Kim Jong-un.
Two sources told CNN that the calls led several former Trump officials — including national security adviser John Bolton, defence secretary James Mattis, secretary of state Rex Tillerson and White House chief of staff John Kelly — to conclude that the president was often "delusional".
The White House's deputy press secretary Sarah Matthews responded to the claims by stating: "President Trump is a world class negotiator who has consistently furthered America's interests on the world stage … President Trump has shown his ability to advance America's strategic interests."