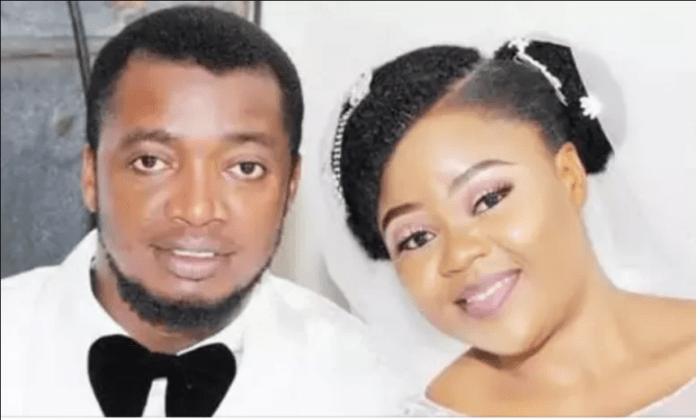 A Nigerian couple identified as Mr Michael and Mrs Evelyn Onwunali recently sparked mixed reactions on social media upon having a successful wedding without a cake, reception, bridal train, groomsmen, best man and chief bridesmaid.
The wedding which held in December of 2019 at the Seventh-Day Adventist Church, Rumukurushi, Obio/Akpor Local Government Area, got tongues wagging at the unusual nature of the ceremony
Check out excerpts from a recent interview with the bridegroom below:
What do you do?
I am a nurse and I work as the lead offshore medic in a company. My name is Michael Onwunali. I am from Umuobo Mgboko Okpulor, Obi Ngwa Local Government Area of Abia State. I'm 35 years old.
What informed the simple wedding you had?
At the time we were planning the wedding, there were so many considerations. One of those considerations had to do with my nature. I'm a quiet person. Also, we saw ourselves as a couple and wanted to do something just for ourselves. Of course, African weddings are about the two families involved but we decided to do something just for ourselves.
Also, I was starting a project, and when we considered the resources at our disposal, it was enough to fund an elaborate wedding but we decided to reserve our money for the project. My wife-to-be and I discussed it and decided to go ahead with the plan.
I'm from a humble background. Growing up was dramatic, adventurous and interesting. I had secondary education at Adventist Secondary Technical College, Owerrinta, Abia State, and proceeded from there to School of Nursing, Umuahia. I'm a registered nurse today.
What made your childhood dramatic and adventurous?
My dad worked with Nigerian Breweries but he lost his job at some point and as a result of that, we had to move to our village. In the village, we didn't go to school for a while, until we were enroled in a community primary school and things started moving forward gradually for us.
Were you surprised that your wife agreed to have that kind of wedding?
Before our wedding, the idea of reducing cost was my wife's. I was thinking about having a normal wedding because I had lots of friends at work who were eager to attend my wedding. But when my wife put up the idea, I weighed it and realised it was cool. Besides, she always reminded me about the project we had been planning to start, so at a point I decided to agree to it.
Our plan is to make health care accessible to Nigerians. In fact, we want to make hospitals accessible and affordable for Nigerians anywhere they are in the country. We want to launch the product by August 2020 at hospitals across the country. We will create a mobile platform that will be accessible to people in any part of the country on their mobile phones and other compatible devices.
What inspired this product?
The inspiration came from my work as a nurse. At different times, people have come to ask me where they can get best treatment for one ailment or the other. It made me realise that people do not really know where to get the right medical care, so this platform will direct people to the right health care provider. You know, in Nigeria, if you go to any hospital, whether the ailment is their speciality or not, they would want to treat it and collect the money. The idea is to make life easier for patients.
What was the cost of your church wedding?
We spent about N245,800 (GHC 3,868 Ghana Cedis) because we didn't have a cake, a bridal train and the rest. If we had done all those things, it would have cost us a lot more. What we did was to use the money to make food and souvenirs available for our invited guests. They were taken care of on the church premises.
We had budgeted N3m ( GHC 47,215 Ghana Cedis) for the wedding, but at the end of the day, we were able to cut that down considerably. But for our traditional wedding, we spent a little over N1.3m ( GHC 20,459 Ghana Cedis) because of the cost of logistics, and conveying guests and other items from one point to another.
Did your guests not grumble about not being able to attend a reception after your wedding?
Every guest ate to their satisfaction at the wedding. We received several phone calls from guests after the wedding, thanking us that they were well taken care of. Besides, we overestimated the number of our guests and that made sufficient food available. None of them complained.
Would you say you were able to achieve you wanted by having a simple wedding?
Yes, initially, the budget was over N3m considering the cost for renting a hall, having decorations and other things needed for the wedding. But my wife advised that we should reduce the budget and I embraced the idea. I even slashed the budget beyond her expectation and that decision helped us save a lot of money.
How did you meet your wife?
We met on social media in 2011. I went to work in Warri and my brother, who was working with me at the time, messed up at the work place. I took to social media to ventilate my anger, and fortunately, my wife was also on the platform. After my bitter complaints, she just threw Bible verses at me to soothe my anger. That was how it started. We started chatting and became good friends. We exchanged phone numbers and called each other occasionally to inquire about our well-being.
Over time, I connected to her personality and one day, I asked her to become more than just a friend to me. She was upset with me and withdrew from me. I had no choice but to give her time. I left her alone.
After some time, she realised reasons why we should be together. Although it wasn't rosy initially as we parted ways at some point, later, we realised that we were made for each other. We told ourselves the truth and submitted to each other.
It took over four months after we started chatting before we saw each other face-to-face. The first time was on February 14, 2012 on a Valentine's Day.
Read More:
What was the reaction of your church authority when they realised that you would not have a reception?
We did not have a wedding reception. After we agreed on the wedding, I went to one of my elder brothers, Ben Chigbu, an elder in our church at Oroigwe branch to inform him that we were planning have a traditional wedding before going to formalise it in court.
But he frowned on the idea. I explained to him that we wanted to save money. He advised that since the type of certificate the court would give to us was what the church would also give to us, since the church was registered with the government and certified to conduct weddings, we should have our wedding in church instead of going to court.
When we told the presiding pastor what we had in mind, he was happy. He assured us that such a wedding would be a good one. He asked for the opinion of my wife and I told him it was even my wife's original idea. He approved it and told us that such a wedding would be a model for youths and intending couples in the future.
I never understood what he meant because for me, it was just a wedding. The church walked us through the process. The officiating pastor, Chidi Aburuka, was so happy and the church gave us all the necessary support we needed. It was even one of the church's forums that posted our wedding pictures on the Internet before it went viral. For the church wedding, we only invited few friends and family members and informed them before they came that there would not be a reception.
Lots of friends and family members frowned on it. We got lots of questions; even one of my aunts asked if we didn't plan to have a reception because my wife was pregnant or could not dance. I told her my wife was not pregnant and she could dance. I said it was just our decision, but people did not really understand us. From some of the messages that we received, people questioned why we had to go for a simple wedding like that.
Did you anticipate the reactions that followed your wedding?
It's quite crazy; we didn't anticipate all this attention. For example, when I was returning to work after the wedding, I noticed people talking about my wedding in small groups. I could hear them saying it's him, it's not him. Some persons boldly asked me if it was me they saw on social media. Recently, I went to visit someone and a lady came to say she saw me on social media.
I thank God that we are being used as examples for something good. Even in church, we could notice the attention and we are now carrying the name of the church positively; that is the scariest part of it because most people look up to us and expect us to be good examples. We pray to God to be able to help us to be able to act right because it is an enormous responsibility.
The bride also had some things to say;
New bride, Evelyn Onwunali Michael, from Afuda Egbele Uromi, Esan North-East Local Government Area of Edo State, tells SAMPSON ITODE the kind of reactions she got after her simple wedding
Where did you school?
I started primary education in Lagos State, but after the death of my father, we had to return to our village, where I continued my primary education. I had secondary education at Uromi, Egbedi Afuda, Esan North-East Local Government Area of Edo State.
I continued my education at the University of Benin where I studied Accounting and obtained a degree.
As long as partners love each other and make a decision together, their families would be there to support them. There is no need to do more than you can to impress people on your wedding day.
What kind of reactions did you get after your wedding?
To tell you the truth, I got lots of messages from people asking me questions. I just believe people would say something no matter what you do. Even if you paint the town red, people will still talk.
What is your message to Nigerians who want to get married but are afraid of what people might say if their wedding does not meet their expectations?
Our message to Nigerians who are scared to have simple weddings is to never be afraid to walk alone. When you start your race, it might be scary and confusing, but as long as you're doing the right thing, you will exult at the end.
So, I will advise people to consider what they have, who they are and stick to what works for them. They should not try to please everybody and make decisions that would make them go broke. People should rather focus on what would help them build your lives together as husband and wife.
I never understood the saying that a wedding ceremony is only for a day but marriage is for a lifetime until now, the hype associated with having a big wedding ends on that day; afterwards, everyone minds their business. But if you have money to spend, by all means, spend it. But if you don't have money, cut your coat according to your cloth.
You should always try to express what you believe in and not to impress people. Many people in society always want to impress others, so they do things they really don't want to do. Always express your personality.
Do you think religious leaders should encourage simple weddings in Nigeria?
Honestly, if not for reactions we are receiving after our wedding, I wouldn't have known about the huge outcry against the way weddings are now being done in Nigeria. We are also sending a direct message to religious leaders and to everyone, to focus on how the couple would fare after the wedding so they can enjoy their lives. If clerics preach this and make everybody understand, it would reduce so much pressure on members of their congregation to have big weddings.