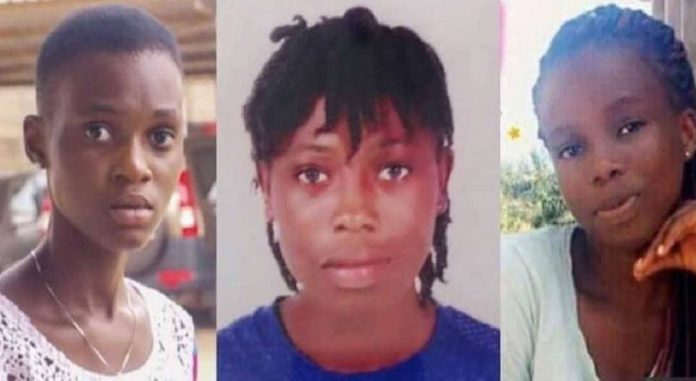 The three Takoradi missing girls, Ruth Quauson, Priscilla Blessing Bentum and Priscilla Koranche, who were kidnapped between August 2018 and January 2019, have been confirmed dead.
Information available to Adomonline.com, which has been corroborated by the police, is that the results of the DNA tests conducted by the police on the human remains found in a septic tank in Takoradi matched those of the missing Takoradi girls.
Ag. Inspector of General of Police (IGP), James Oppong Boanuh, has already at a press conference on Monday said the families of the Takoradi missing girls have been notified.
The girls, four in all- Priscilla Blessing Bentum, 21, Priscilla Mantebea Koranchie, 18; Ruth Love Quayson 18, and Ruth Abakah were kidnapped at different times in the region.
The main suspect, a 28-year old Nigerian, Samuel Udoetuk Wills, was arrested in the Western region. Another suspect, John Orji, was arrested at the Aflao border while a third, only known as Chika was arrested in Nigeria.
Below is the full transcript from the police:
The officers of the Ghana Police Service informed four families in Takoradi in the Western region that the DNA test conducted on samples discovered in the course of police investigations into the disappearance of four missing girls have turned positive as the remains of the girls.
The GPS has with regret, therefore, informed the families that the remains are those of Ruth Abakah, Priscilla Blessing Bentum, Ruth Love Quayson and Priscilla Koranchie.
The investigations now establish that the girls were victims of kidnapping and murdering syndicate that operated in the Takoradi area. While for various reasons we were unsuccessful in obtaining and acting on accurate actionable intelligence in good time to enable us to rescue the girls, we believe that the arrest of the culprits has effectively thwarted the ability of this syndicate to have continued with further kidnappings and murders.
Sequences of disappearance
Miss Abakah went missing on July 29, 2018. The second victim, Miss Priscilla Bentum went missing August 15, 2018; on December 4, 2018, Ruth Love Quayson also went missing. The disappearance of fourth victim, Priscilla Koranchie was on December 21, 2018.
On December 22, the police were able to track the number though which some ransom had been paid, which led to the arrest of Samuel Udotek Wills to assist with investigations. Mr Wills later escape from custody on December 30, 2018, but was rearrested three days later in an uncompleted building at Nkroful, a suburb of Takoradi.