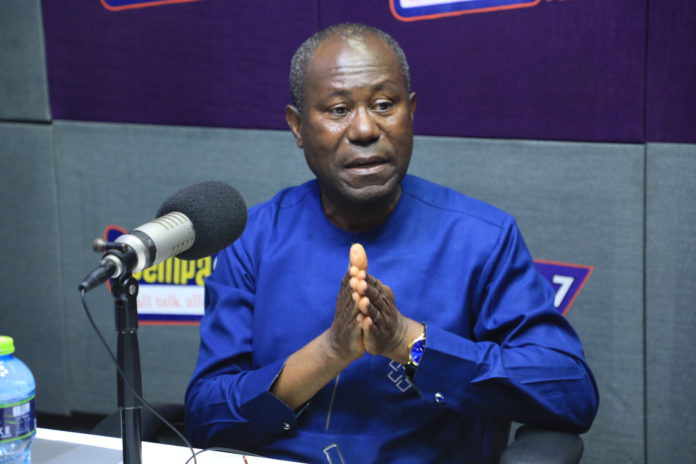 The Chief Executive Officer (CEO) of the Ghana Cocoa Board (COCOBOD), has urged former President John Mahama not to hesitate in reaching out to him for education on cocoa issues.
In the view of Joseph Boahen Aidoo, the National Democratic Congress (NDC) flagbearer is being led astray by advisors who claim to be abreast with cocoa issues.
He made these comments on Adom FM;s morning show, Dwaso Nsem, citing Ajumako Enyan Essiam Member of Parliament, Dr Cassiel Ato Forson as one of the people misleading Mr. Mahama.
The COCOBOD CEO said he being a member of the governing New Patriotic Party (NPP) should not be a hindrance for Mr Mahama to consult him if necessary.
"Regardless of my political affiliation, I am Ghanaian, so I'm prepared to advise Mahama on cocoa issues if he avails himself. We were even colleagues in Parliament. If he [Mahama] decides to rely on his people, he will always come out, make mistakes, and disgrace himself as a statesman. That will not be good because the people close to him don't know anything about cocoa," he urged.
The COCOBOD CEO bemoaned the politisation of the cocoa sector since it is a national strategic commodity all citizens must endeavour to protect.
Mr Aidoo's comments come in the wake of the controversy about the increment of the farmgate price of cocoa beans for the 2023/2024 season has generated.
President Akufo-Addo on September 9, while addressing cocoa farmers in Tepa of the Ashanti region announced a 63.6% upward adjustment from GH₵800 to GH₵1,308 per bag.
NDC has said it is a total rip-off, as cocoa farmers will remain worse off than they were seven years ago under them. They said the price increment should not have been less than GH¢2,500. 
ALSO READ: