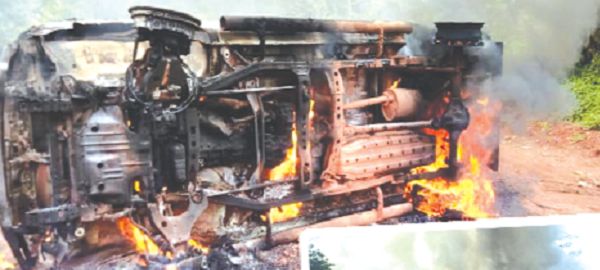 Two days of protest by workers of the Ghana Bauxite Company at Awaso in the Western North Region has resulted in massive destruction of company properties.
The mayhem stemmed from a long-running disagreement between the management and the workers over the latter's  conditions of service.

Many enraged workers went on the rampage, setting vehicles, residential and office buildings ablaze.
The development has resulted in the closure of the company.

The violence, which started last Monday, degenerated into incessant attacks on the properties yesterday after the general manager of the company, who had just returned from China, allegedly threw all the agreed terms in the ongoing negotiations overboard.
ALSO: 'Show us this idiot': Nigerian community wants to meet suspect in missing Taadi girls case

The Chinese managers of the company escaped in the cause of the protests, while the Ghanaian Human Resource Manager also managed to escape to an unknown location with his family through the bush.

As of midday yesterday the angry workers had blocked roads to and from the town.

Eyewitnesses told the Daily Graphic that more than seven offices, including the Human Resource Department and adjoining offices, were burnt.

Vehicles ablaze

The aggrieved workers allegedly moved to the residence of the Human Resource Manager and set the house and vehicles on the compound ablaze.

They are also said to have caused extensive damage to the residence of the Chinese General Manager, blocked the road to the mines with their haulage trucks and set tyres on fire, thereby halting all economic activities and vehicular movement.
ALSO: 'I was arrested because of my picture on Facebook' – Suspected kidnapper tells court

A source close to the workers told the Daily Graphic that the aggrieved workers wanted increment in their salaries and other conditions.

It said after the takeover of the bauxite mine, part of the operations was outsourced to service providers, which led to a disparity in the salary of workers.

Salary disparities

The workers decided to put their proposal before management to correct the anomalies but the latter was not able to meet the workers' demand, hence the demonstration.

The source said all those would have been avoided if the general manager had been diplomatic in his approach.

"Although the committee agreed on certain things, when the general manger returned, he cancelled all," it said.
ALSO: CID invites Nigerian Prof over 'inciting' comments


Colossal damage

When contacted, the Awaso Divisional Police Commander, Chief Supt Osei Bonsu, said the police were in control of the situation and that the District Security Committee (DISEC) was meeting to find a solution to the situation.

He described the damage to properties as "colossal" and added that "they blocked the entrance to the mines and facilities with the haulage trucks and took the keys away and the drivers were nowhere to be found".

"We are actually working with all stakeholders, including the traditional rulers, to get the issues resolved. We are at the moment trying to locate some of the drivers with the keys to the trucks," he added.

The police, he said, were working to  protect lives and properties, saying: "We are not into corporate negotiations and who did not agree to what.

 We are to ensure peace and any element of criminality will be handled according to law."
Source: Daily Graphic