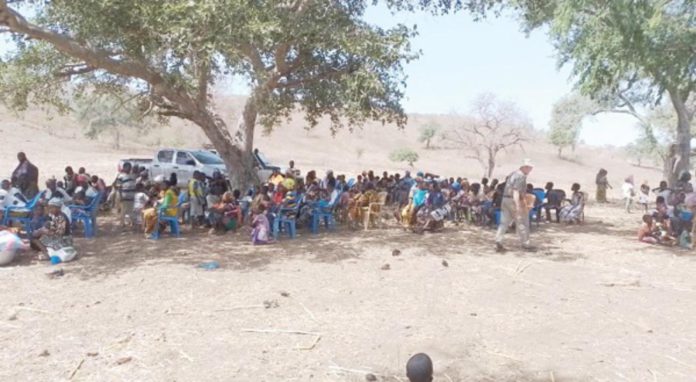 Some Burkina Faso nationals currently seeking asylum in Sapeliga in the Bawku West District in the Upper East Region have vowed not to return to their country any time soon as their safety and security cannot be guaranteed.
That, they said, was due to the murder of their family members making the country unsafe for them and other citizens.
"The atrocities and killing of innocent citizens by Jihadists and terrorist groups have made the country unsafe for everyone.
"Since the security of the country has been compromised, our safety cannot be guaranteed when we return," they intimated.
The Burkinabe refugees made their decision known when the Country Representative of the UN Refugee Agency, UNHCR, Esther Kiragu, visited them at their camp.
She was accompanied by the Executive Secretary of the Ghana Refugee Board (GRB), Tetteh Padi, and some officials of the Ghana Immigration Service (GIS).
Visit, observation
The team's visit to the temporary camps at Kare and Burgila was to assess the situation on the ground and to inform them of measures being taken to respond and support after fleeing to Ghana due to Jihadist attacks.
At the Kare camp, the Daily Graphic team observed that they have only one borehole and three toilets constructed by the United Nations Children's Fund (UNICEF), serving more than 200 people.
As a result, on a daily basis, there are long queues of people who want to use the facilities.
No intention
Speaking through an interpreter, the leader of the asylum seekers, Madi Bukari, said: "We want to officially inform you that we do not intend to go back to Burkina Faso, but want to stay in Ghana to continue our lives.
"We saw with our eyes how the Jihadists besieged our communities, entered our houses and killed our family members with no provocation.
"The terrorists and Jihadists shot and killed our mothers, fathers and siblings in front of us. We don't feel it will be safe for us if we return to our country and our communities at this moment," Mr Bukari emphasised.
He stated that they were yet to overcome the torture and emotional trauma they went through after their relations and neighbours were gruesomely murdered by the Jihadists.
Feeling at home, help needed
Mr Bukari described Ghana as a haven for them, intimating that the chiefs and people of Sapeliga had been hospitable towards them since they fled to the town over terrorist attacks in their country.
"We feel safe here and the chiefs and people wholeheartedly received us into the community, shared their houses and food with us and made us feel at home by giving us a land to put up temporal structures," he said.
He appealed to the UNHCR and other institutions to quicken the process to provide them with urgent support since they needed basic items and facilities to make life a bit more comfortable for them in their new settlement.
Additionally, he asked for support to enable them to engage in dry season farming to grow some crops to sell to earn income to support their lives.
On behalf of the women, Zeinabu Zabre, said aside from food, they urgently needed clothing since they left all their belongings and fled to Ghana.
Further, she called for the provision of hands-on skills for the women in some trades to enable them to set up small businesses to support their upkeep.
Increased numbers
Ms Kiragu underscored the need for urgent support to enable them to live comfortably in the community.
She said the visit was a follow-up to an earlier one ostensibly to find out if more of the asylum seekers had fled to the community.
"Obviously, based upon the figures now, your numbers have increased, which required immediate material support since you fled to this community," she stated.
Mr Padi said the GRB and its partners would put in place the needed measures to accordingly respond to the needs of the asylum seekers from Burkina Faso who were living in communities in the area.
Resolution
During a courtesy call on him at his palace, the Chief of Sapeliga, Naba Emmanuel Ayagiba Abangiba, said since the Burkinabes had resolved not to return, his community was ready to integrate them into it.
"Since they have expressed interest in farming, we will make lands easily available to them to cultivate crops to sell to earn income," he added.
By doing so, he said, they would be able to generate some income in the interim to cater for some of their basic needs.