Seventeen people have been killed and eight wounded in a "terrorist attack" in the centre of the capital of Burkina Faso, Ouagadougou, the government says.
Three gunmen opened fire on customers seated outside a restaurant, witnesses were quoted as saying.
Security forces killed three attackers, but some people are still trapped in the building, Communication Minister Remis Dandjinou says.
A jihadist attack on a cafe nearby left 30 people dead in January last year.
There are fears that the attack is the work of one of the affiliates of al-Qaeda that are active in the Sahel region, the BBC's Alex Duval Smith reports.
Mr Dandjinou said it was unclear how many assailants had been involved.
"They are confined to one part of the building they attacked. Security and elite forces are conducting an operation," he said on television.
The shooting began shortly after 21:00 (21:00 GMT) on Sunday on Ouagadougou's busy Kwame Nkrumah Avenue.
The Aziz Istanbul Restaurant appears to have been at the centre of the attack.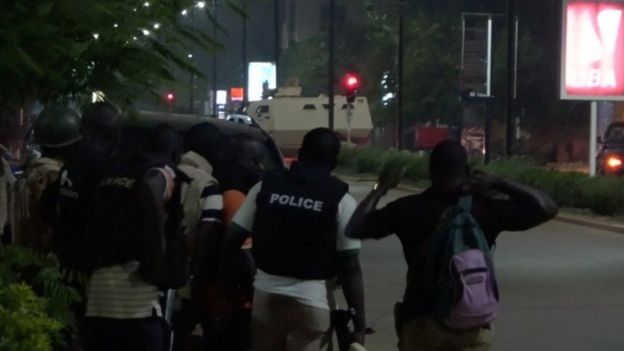 One eyewitness told the BBC: "I saw there were multiple trucks or jeeps driving through my street, with… local army/police officers with AK47s, deploying in front of my house.
"I heard a lot of shootings and then I was scared as hell and I went inside. I've been hearing quite a bit of shooting."
Police captain Guy Ye told Associated Press that the attackers had arrived on motorcycles and had begun shooting randomly.
A government statement quoted by the AFP news agency said: "The attack claimed 17 victims, their nationalities are yet to be confirmed, and eight injured."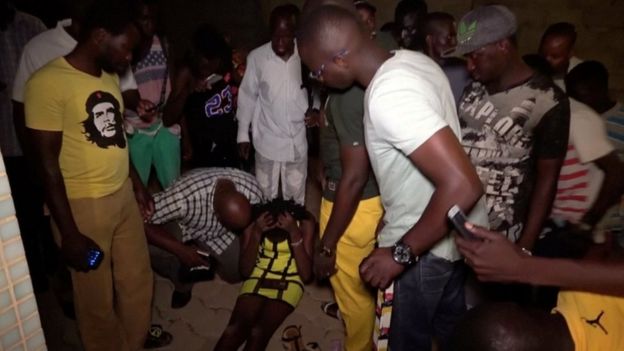 A hospital in the city said that one of those killed was Turkish. Other unconfirmed reports said at least one of the dead was French.
The attack is similar to one in January 2016, when gunmen targeted the Splendid Hotel and the Cappuccino restaurant, only 200m further along Kwame Nkrumah Avenue from the scene of the latest attack.
More than 170 people were taken hostage and 30 were killed. The al-Qaeda in the Islamic Maghreb (AQIM) group said it carried out that attack.
Burkina Faso is part of the Sahel region, which includes Mali where Islamist groups have been active since 2012.
A multinational force run by African nations to target jihadist forces in the Sahel region has been established, but it will not be operational until later this year.