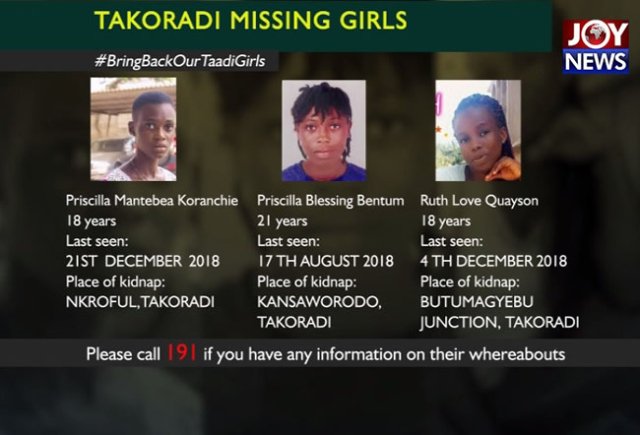 "Dad! Dad! Dad!" she shouted repeatedly. A father gets a distress call from his daughter. She is agitated. Her father is worried and scared for his child. The phone suddenly goes dead. She has been kidnapped. That was in August 2018.
She is one of a growing number of teenagers and young Ghanaian women to have been kidnapped in Ghana's Western Region of Takoradi.
Three girls have been named: they are 18-year-old Priscilla Mantebea Koranchie, 18-year-old Ruth Love Quayson and 21-year-old Priscilla Blessing Bentum. The police say three girls have been kidnapped, Takoradi residents say it is seven.
The disappearances span five months, from August 2018 to the very latest in January 2019. Takoradi, affectionately called 'Taadi', is in the Western Region of Ghana.
The growing concern and parents desperate cries for help have ignited media headlines and the hashtag #BringBackOurTaadiGirls.
There is also a call to Ghana's police to elevate and prioritise these kidnapping cases with impactful, urgent policing and investigation and return the young women who are daughters, sisters, friends and students with loved ones, dreams and futures to their families.
The Bring Back Our Girls hashtag ignites memories of the Chibok girls of Nigeria. In April 2014, more than 200 girls aged between 16 and 18 were kidnapped and removed from their Government Secondary School in Chibok, Borno State, Nigeria. Their disappearance and the lack of urgency and priority they were given by some in the Nigerian government and law enforcement ignited anger. Parents made multiple appeals for the return of their girls.
The story reached activists and NGOs and the hashtag #BringBackOurGirls appeared across social media. It led to high profile celebrities, including America's Former First Lady Michelle Obama, pictured holding a board with the hashtag, in a bid to keep the issue in the public domain and force a continued focus on finding them.
With the Chibok girls, so many were kidnapped from one place at one time and therewere utter failures by the authorities to sound a national alarm and for the rest of the Continent to respond with equal rage and deploy tools to search and retrieve the girls.
These kidnaps in Takoradi, like those in Nigeria, speak more deeply of societies that do not value their girls; and are slow to respond and reluctant to raise national and global alarms when they disappear.
It is symptomatic of societal norms that trivialize and minimalize the welfare of girls and therefore lose valuable time and do not pay careful enough attention in chasing leads, doing diligent police work, treating their disappearance as urgent and ultimately recovering young women.
Here in Ghana, anger and desperation have turned into protest.
Relatives of the families and Takoradi residents hit the streets chanting, holding placards and calling on the police to do more, a government to engage the issue and the media to continue to highlight the girls' disappearance.
Parents have since made moving, tearful appeals for information about the girls. WhatsApp messages with flyers featuring images, names and the ages of the girls are being shared as the public engages in a growing call for action to find the missing girls.
What we do know is that a Nigerian man, Samuel Udoetuk-Wills was arrested in connection with the kidnappings. Clothes from one of the kidnapped girls were found in his hideaway – but no girls have been recovered.
The police claim they have got little co-operation from their suspect; this is despite the clothing that was found.
There has been critique that police – often accused of being inadequately trained and failing to treat issues of violence against young women with suitable seriousness – failed to act swiftly, failed to be proactive, failed to engage the support of the public and failed to use the medium of Ghana's media to issue calls of help, engagement and support from the public.
Unsurprisingly, the police argue such critique is unfair.
However, if we connect these kidnappings to other cases of violence against women in Ghana and an ongoing history with consistent reports of poor treatment by some police, failure to take reports seriously and act urgently; what emerges is a picture of inaction that leads to culprits escaping and victims and families left to pick up the pieces of lives forever impacted by such violence.
It is a picture that is connected to wider society's response to girls, women and violence.
And it is one that demands our attention and our action.
BRING BACK OUR TAADI GIRLS!
**********************************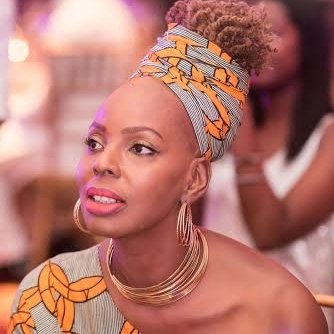 The author, Esther Armah, is an award-winning international journalist who has worked in London, New York and across Africa, a radio host, journalism lecturer, multi-media practitioner and playwright.