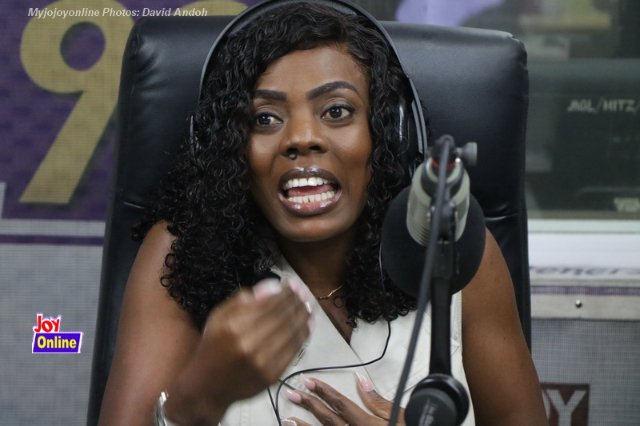 A sports enthusiast has expressed consternation at the performance of the Black Stars, which saw their early exit from the ongoing 2019 African Cup of Nations.
An obviously hurt Nana Aba Anamoah told Joy FM's Super Morning Show it will take more than crying for the players to appease Ghanaians who have been forced into mourning by their performance.
"Are the players not offering any form of apology for the energy invested in them"? she asked. And called on them to "donate half of their bonuses to charity to show that they are sorry."
ALSO: I thought Black Stars would win Afcon 2019 – Wakaso cries
"They should do more than crying," she added. She told Daniel Dadzie, host of the Super Morning Show Tuesday, most of these players "did not look interested."
The sobbing of some of the players after the defeat did not convince Nana Aba Anamoah they are remorseful.
According to her, the players were crying because of their personal loss.
"Why were the players crying? It was because they are not progressing to the next stage of the competition, they are going to be denied bonuses and may not get contracts from scouts."
Rating the individual performances of the players, she said, "I was expecting more from Asamoah Gyan. But I don't blame him. Someone was supposed to supply him the balls. Yesterday apart from Nuhu Adams and Mubarak Wakaso, all the other players were very average."
ALSO: I am really sorry- Ekuban apologizes after penalty miss

Where have we come from?
Ghana's hope of winning the 2019 African Cup of Nations, after 37 successive previous failed attempts, was dashed last night at the Ismailia Stadium in Egypt.
This was not unexpected. The team struggled in their previous games and were thankful to have been rewarded by an own goal from the Tunisians a minute to the end of the game.
Luck eluded them during the penalty shootout which saw them losing 4: 5 to their Tunisian counterparts.
Many Ghanaians believe the team went into the tournament relying on luck than adequate preparation. Activist, Kinna Likimani shared this view.
According to her, it takes more than nationalist sentiments to win such a competitive tournament.
"I do not understand why we do the same things and expect different results. Why do you think Ghana is going to win? I have not seen anything. Performance is not just muscle moving," she said on Joy FM's Super Morning days to the tournament.
"What have we done to ensure that they get the work done? We have not treated ourselves as if we deserve it," Likimani added.
The senior national team has been grappling with management issues since Anas Aremeyaw Anas' investigative work which unmasked corruption in Ghana's football.
 The team is currently being managed by a three-man normalization committee put in place by FIFA. This was after the Ghana Football Association was dissolved and its president banned from football-related activities.
ALSO: Photos: 'Kum Yen Preko' demonstrators paint Accra red
The ad-hoc committee is to temporarily manage the team until there can be a properly constituted Ghana football association.
What is the future of the coach?
Nana Aba Anamoah says that it is time for Kwasi Appiah to step aside.
The coach, she said, has done well thus far but it time for him to go.
"Drop that coach. No drop him," she said on the Morning show.
Nana Aba Anamoah, like many other Ghanaians on social media, has blamed Ghana's early exit from the tournament on the coach.
"We had coaching deficiencies," she lamented, "why do you take off Dede Ayew and keep Owusu." She questioned the tactical decision of Kwasi Appiah which saw the black stars losing after a penalty shootout to the Tunisian National Team.
She said the captaincy drama which the coach inflicted on the team was unnecessary.
"What was the impact of removing Asamoah Gyan from the captaincy? What did we achieve? It was unnecessary. All of that was unnecessary. It was a distraction."
Sports Journalist and private legal practitioner, Eva Okyere, said while there may technical and tactical deficiencies, "We took a very average Black Stars team to the tournament."
She said she had seen better Black Stars teams in the past, this not one of them.
Eva Okyere would discount the impact of the poor refereeing decision which saw a Dede Ayew goal disallowed.
She said if at all that goal was to be disallowed, it ought to have been for an offence other than the handball the South African referee cited.
Source: Myjoyonline.com