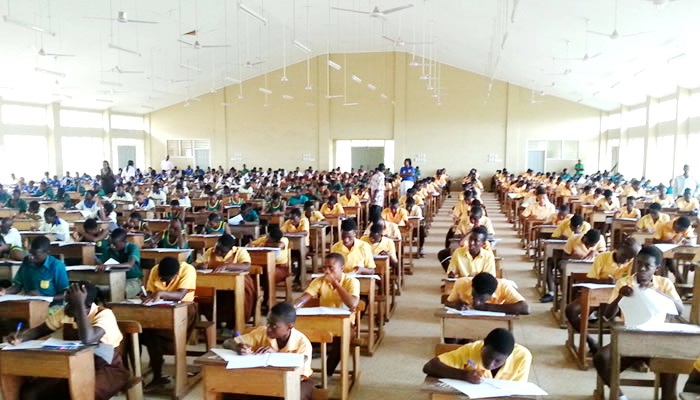 A female candidate of the on-going Basic Education Certificate Examination (BECE), brave the odds and took her six week old baby along to write the examination which began nationwide on Monday.
The candidate (name withheld) a student of one of the Junior High School in the Sekyere-Central District of Ashanti, was among the 1,144 candidates who registered to take part in this year's BECE in the District, but got pregnant afterwards.
This came out when the Ghana News Agency joined Mr Kwadwo Banahene Bediako, the District Chief Executive (DCE) and Mr Anthony Maxwel Amoako, the District Director of Education, to tour some of the examination centres.
ALSO: Audio: GSA exposes fuel stations in fuel fraud
Undeterred to write the examination, she sought the assistance of her grandmother who accompanied her to the Kwamang SHS examination centre to provide care as she wrote the papers.
The grandmother was spotted loitering around the centre with her six-week old grandchild strapped on her back.
Three pregnant female candidates were also seen writing the examination.
ALSO: Pupils to enjoy free cocoa drink as breakfast from Sept. 2019
Mr Anthony Maxwel Amoako, the District Director of Education, who confirmed the figures to the GNA, said 14 registered candidates absented themselves on the first day of the Examination.
They were made up of 10 males and four females from the 47 schools, which were registered in the District to write the examination in seven centres.
Mr Kwadwo Banahene Bediako, encouraged the candidates to do their best and refrain from all forms of examination malpractices that could lead to the cancellation of their results.
ALSO: NDC Chairman Ofosu Ampofo released (Video)
The DCE urged them to work hard to enable them to enjoy the government's free SHS.
He presented some cartons of mineral water and soft drinks to the invigilators at all the centres that he visited.
Source: GNA