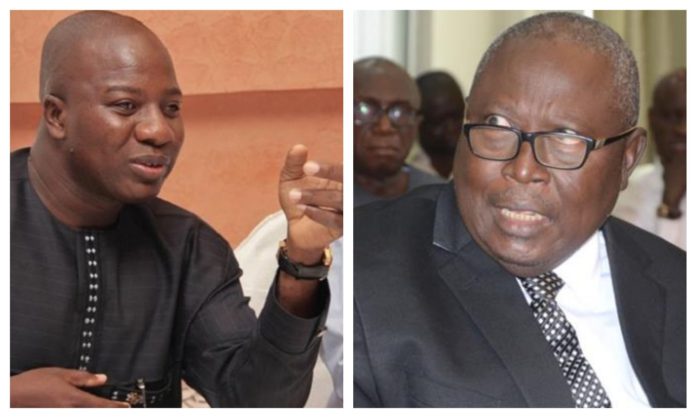 Member of Parliament for Bawku Central, Mahama Ayariga, has stated he cannot be 'released' on Tuesday by the Speaker of Parliament to stand trial in a case brought against him by the Special Prosecutor (SP) Martin Amidu.
Mr Ayariga was expected to appear in court on June 4 to answer some criminal charges but the MP has indicated he will not avail himself because he is constitutionally bound to be in Parliament on the said date, to represent his constituents.
He argued a letter by the SP to the Speaker of Parliament asking the later to release him for trial is of no effect.
In a letter to the Special Prosecutor, Mr Ayariga said the Speaker "is not vested with the power to 'release' a sitting Member of Parliament to you so you can arraign that Member before court during a period when Parliament is in session and sitting".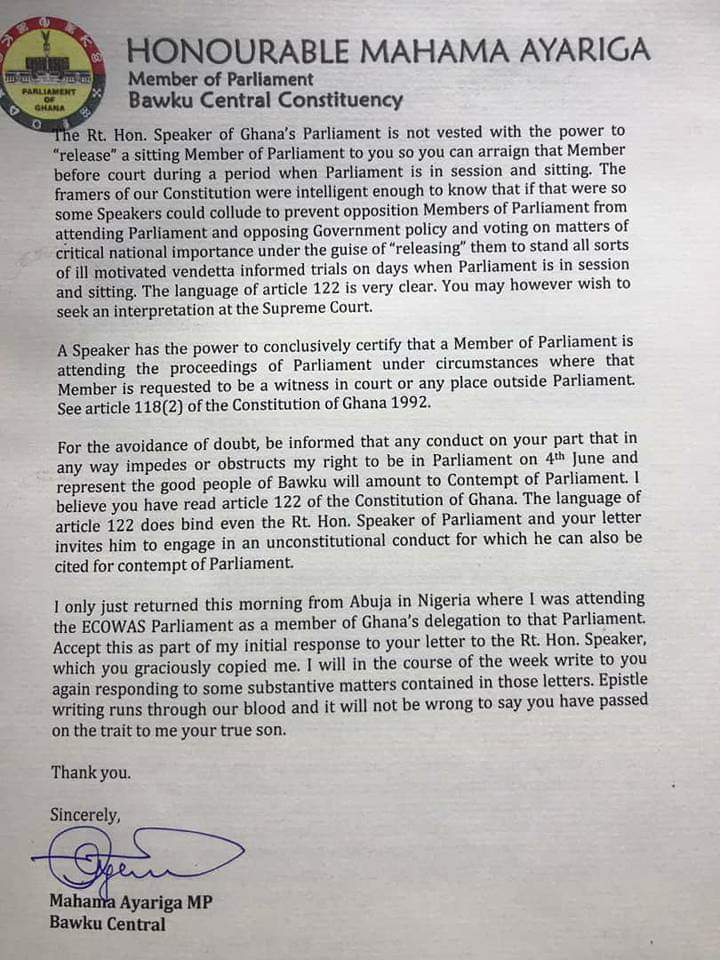 Though he said he could seek permission from the Speaker to attend the court hearing, he said he will not consider that option, stating he is "not enthused about abandoning my parliamentary duties" just because of an "inappropriately timed invitation".
"Absenting myself from sittings of Parliament for a certain number of days, without the Speaker's permission, could be grounds for my removal from Parliament. This is trite constitutional law," he stated.
Constitutional issues
Mr Ayariga has thus invited Mr Amidu to seek legal interpretation of his argument grounded in articles 117, 118, 119 and 122 of the 1992 constitution at the Supreme Court
"A Speaker has the power to conclusively certify that a Member of Parliament is attending the proceedings of Parliament under circumstances where that Member is requested to be a witness in court or any place outside Parliament," he contended.
"Be informed that any conduct on your part that in anyway impedes or obstructs my right to be in parliament on 4th June and represent the good people of Bawku will amount to contempt of parliament," Mr Ayariga stated.
"I believe you have read article 122 of the constitution. The language of article 122 does bind even the Speaker of parliament," he added.
The MP contended that Amidu's letter inviting the Speaker of Parliament "to engage in an unconstitutional conduct" could cause the Speaker to also be cited for content of parliament.
Mr Ayariga said he will only be able to attend court proceedings on days that parliament does not sit, saying "I can come to court on any other day when Parliament is not sitting".