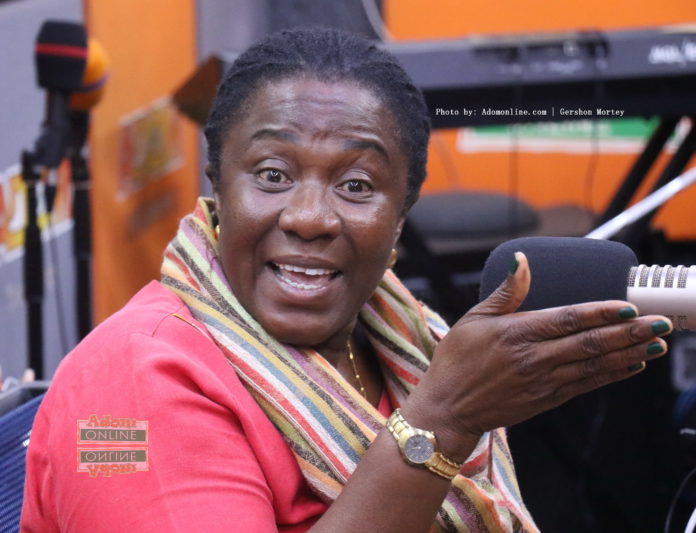 Member of Parliament for Domeabra-Obom Constituency in the Greater Accra region is questioning the progress of the one million dollars per constituency President Nana Akufo-Addo promised Ghanaians.
"President Akufo-Addo and his people are always criticising Mahama for doing nothing for Ghanaians. Where is the one million dollars per constituency after promising us? The NPP and Akufo-Addo have simply failed us and its time that we preach the truth to Ghanaians. We are living under deceit," she said.
Sophia Karen Edem Ackuaku was speaking on Adom FM's morning show 'Dwaso Nsem', Thursday.
ALSO: Audio+Photos: Absence of doors, windows force pupils to carry furniture home
President Akufo-Addo said Ghanaians will not entrust power into the hands of the opposition National Democratic Congress (NDC) in 2020 led by former President John Dramani Mahama, because it still has not woken up from its dreams.
The President said this on Tuesday, August 13, when he addressed staff and students of the Bolgatanga Senior High School, Bolgatanga, in the Upper East Region, as part of his two-day working visit to the region.
ALSO: Audio: Your petition over PDS scandal disgraceful – Oppong- Nkrumah tells Minority
He said, "I know that there are people in this country who don't want this policy [free Senior High School Policy], who have been campaigning against this policy. They are dreaming that they are going to come back to power to cancel the policy. They did not know that the Ghanaian people were no longer interested in entrusting them with power. They still haven't woken up from their dreams."
ALSO: Nana Ama McBrown celebrates 42 years of life with hot photo
But, the MP, chiding the Akufo-Addo-led government for its continual deceit, posited that the Akufo-Addo-led government is always making unrealistic promises.
"Don't you dream? After dreaming about the one million dollars per constituency, what has the NPP done about it? Total failure and then you turn around and call Mahama names and accuse him of dreaming. Akufo-Addo is rather the one dreaming. He should continue and by the time he is done, the NDC would have been in power," she noted.
Source: Adomonline.com | Dorcas Abedu-Kennedy