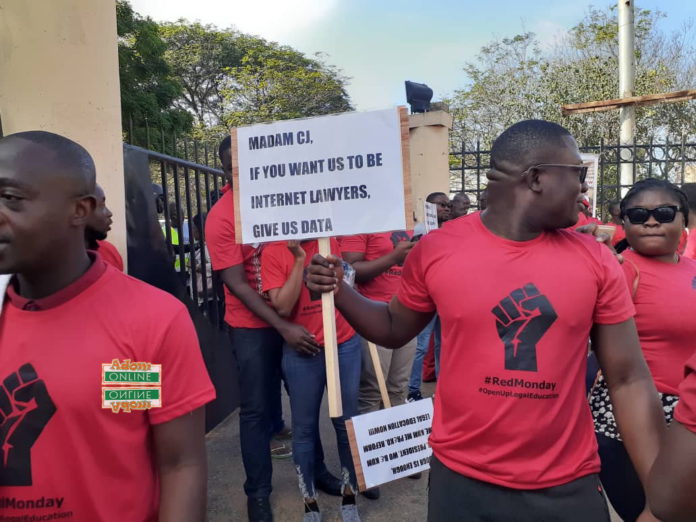 The Greater Accra Police Command has justified the minimum force used to disperse demonstrating prospective law students of the Ghana Law School in Accra.
Deputy Public Relations Officer (PRO) of the Greater Accra Police Command, Inspector Kwabena Danso, said using water cannons became necessary when the students tried to override the security personnel.
READ: Church suspends Nigerian lecturer implicated in BBC's 'Sex for Grades' exposé
Some applicants, who failed the entrance exam to the Ghana Law School, embarked on a peaceful demonstration to draw attention of the President and Chief Justice to the need to reform legal education.
But, it turned violent when they tried to go to the Jubilee House to present their petition. Angered by the conduct of the police, the students sat in the middle of the road and vowed not to move until they are allowed entry.
READ: Sannie Daara exposes weaknesses in BBC's 'Sex For Grade' documentary
The police used hot water to disperse the demonstrators and also arrested 13 of the students. The act by the security has been condemned in no uncertain terms with many demanding unqualified apology.
In response, Inspector Danso said they owe no one an apology for executing their lawful duty.
He explained that, they had to use riot control equipment when the law school applicants started pelting the police with stones and other offensive weapons.
READ: Family of four drown taking selfie near reservoir
"We used riot control equipment like water cannons, batons and shields and rubber bullets so we used what we think was appropriate," he said on Adom FM's morning show, Dwaso Nsem, Tuesday.
The Greater Accra Police PRO said he expected the law school applicants to have known better and complied with the law.
Inspector Danso, therefore, advised the citizenry that though they have the right to demonstrate, they must do so in accordance with the law.
Source: Ghana|Adomonline.com|Adwoa Gyasiwaa Agyeman