Doris Mawutor Kashiku, the woman at Assin Dansame in the Assin North Municipality in the Central region, who allegedly poured hot palm nut soup on the Praso Police Commander, Supt. Isaac Tetteh during a feud in the area, has explained why she poured the soup.
"The police were acting violently so I decided to video whatever was happening when the Commander suddenly held my hand in an attempt to take the phone; I resisted and hid the phone in my panty but he wouldn't stop and pulled the phone out from my panty," she narrated.
ALSO: Audio: Prostitutes, junkies take over Asomdwee Park
The suspect, who bolted after committing the crime but was arrested at the Assin Fosu Lorry Park in an attempt to flee the area, in an interview with Adom News' Alfred Amoh said Supt. Tetteh assaulted her family first.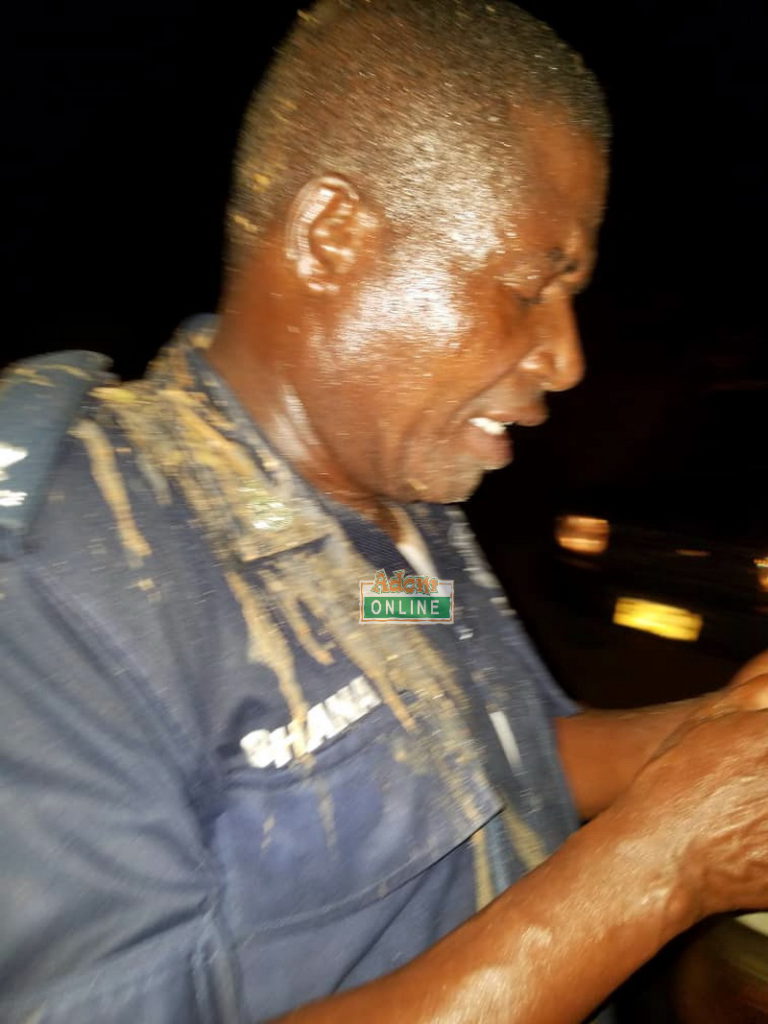 "The feud, which brought the police to the area, escalated on Thursday evening and we had just returned from the farm preparing our supper when the police team barged into our house to arrest my husband's nephew, Kwame Frimpong.
ALSO: Audio: Fundraising campaign launched to complete Atta Mills Library
"The said Praso Commander began beating everyone in the house, slapped and kicked my little kid who was rescued by my daughter.  The police officer later pushed me and I fell beside the palm nut soup which I threw and it unfortunately landed on him," she added.
Source: Adomonline.com | Adom News | Alfred Amoh
Warning
: simplexml_load_file(https://www.youtube.com/feeds/videos.xml?user=adomtvtube): failed to open stream: HTTP request failed! HTTP/1.0 404 Not Found in
/opt/bitnami/apps/wordpress/htdocs/wp-content/plugins/td-standard-pack/Newspaper/parts/single/loop-single-13.php
on line
89
Warning
: simplexml_load_file(): I/O warning : failed to load external entity "https://www.youtube.com/feeds/videos.xml?user=adomtvtube" in
/opt/bitnami/apps/wordpress/htdocs/wp-content/plugins/td-standard-pack/Newspaper/parts/single/loop-single-13.php
on line
89
Notice
: Trying to get property 'entry' of non-object in
/opt/bitnami/apps/wordpress/htdocs/wp-content/plugins/td-standard-pack/Newspaper/parts/single/loop-single-13.php
on line
92
Warning
: Invalid argument supplied for foreach() in
/opt/bitnami/apps/wordpress/htdocs/wp-content/plugins/td-standard-pack/Newspaper/parts/single/loop-single-13.php
on line
92

Warning: simplexml_load_file(https://www.youtube.com/feeds/videos.xml?user=adomtvtube): failed to open stream: HTTP request failed! HTTP/1.0 404 Not Found in /opt/bitnami/apps/wordpress/htdocs/wp-content/plugins/td-standard-pack/Newspaper/parts/single/loop-single-13.php on line 104

Warning: simplexml_load_file(): I/O warning : failed to load external entity "https://www.youtube.com/feeds/videos.xml?user=adomtvtube" in /opt/bitnami/apps/wordpress/htdocs/wp-content/plugins/td-standard-pack/Newspaper/parts/single/loop-single-13.php on line 104

Notice: Trying to get property 'entry' of non-object in /opt/bitnami/apps/wordpress/htdocs/wp-content/plugins/td-standard-pack/Newspaper/parts/single/loop-single-13.php on line 106

Warning: Invalid argument supplied for foreach() in /opt/bitnami/apps/wordpress/htdocs/wp-content/plugins/td-standard-pack/Newspaper/parts/single/loop-single-13.php on line 106