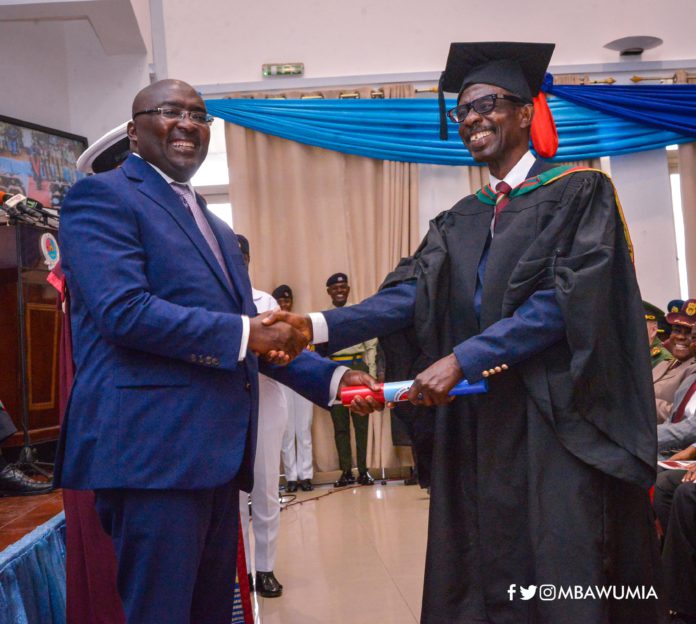 National Democratic Congress (NDC) General Secretary, Johnson Asiedu Nketia, has replied the Vice President, Dr Mahamudu Bawumia, after he mocked him for graduating with a Master Degree in Defence and International Politics from the Ghana Armed Forces Command and Staff College.
According to him, Dr Bawumia was rather happy for him for completing the course, which was why he made those remarks.
Vice President Bawumia, who was the Special Guest of Honour for the graduation ceremony, set the auditorium of the College alive with the hilarious comments.
ALSO: Audio: Asiedu Nketia acquires Master Degree for Veep post – Bawumia reveals
Dr Bawumia remarked: "One of our graduands today, Johnson Asiedu Nketia… he is known as 'General Mosquito', and also the General Secretary of the NDC.
"I am told when he came into this institution, he left all his 'ntua…tua' behind the gate.
"As I shook his hands, I was wondering whether the physical training and exercises had added any more muscles to his…but it appears, it did not…am told he did not come here for the physical muscles…but came here to beef up the intellectual capacity of the NDC…and also enhance his case of being selected as running mate."
ALSO: Photos: Asiedu Nketia grabs Master Degree
Reacting to the comment, Mr Nketia, popularly known in political circles as 'General Mosquito', said his good friend Dr Bawumia made those statements on a lighter side.
"So many people don't know that Bawumia is a very good friend of mine. I know what he said was on a lighter side but I know he was very happy for me and that's why he said those things," he told Accra based Okay FM, monitored by Adomonline.com.
Mr Nketia said he was supposed to complete that course last year but had to defer because of his involvement in election related matters.
"I was supposed to complete this course last year. After writing my exam and getting ready for the dissertation, I had to write to them to defer me because I needed concentration for our presidential primary and other elections.
ALSO: 5 GES officials cited over missing GH¢276,621
"So I did my dissertation after the elections and that is why I am graduating now," he added.
'General Mosquito' also revealed that he centred on corruption in Ghana as his research work.
"I did corruption as my research work because I wanted to know what the country has done to control or eliminate the menace. And I also focused on Parliament of Ghana and what they have done on the fight against corruption, whether it is good or bad," he noted.
Source: Adomonline.com | Dorcas Abedu-Kennedy