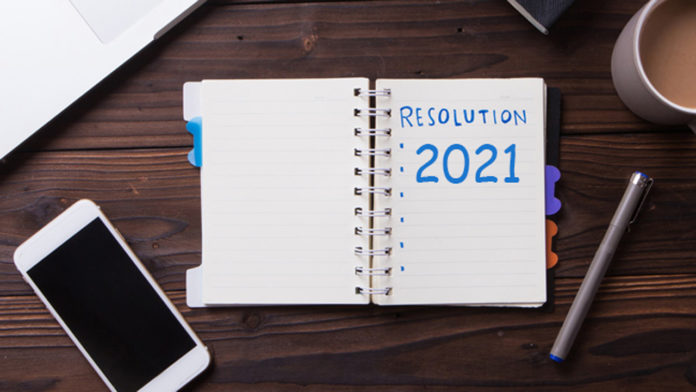 2020 is over. And we're all hoping a lot of what happened in 2020 goes with it. Rather than looking back on what you could've done differently, I'm guessing you're more than ready to move on to 2021 and make it one of your best years yet, pandemic or not.
That brings us to New Year's resolution time, and you know how it goes: You plan on saving more, starting a diet, getting that gym membership, and so on, but before January is over, you drift back to your old ways.
To steer you away from going down this same path this year, I suggest using your smartphone to help you achieve your goals (hey, you already use it for everything else, right?). Here are a few apps to download that can make 2021 the year your resolution sticks.
If your resolution is to manage your spending habit
Money Manager – the #1 financial planning, review, expense tracking, and personal asset management app for Android!
Money Manager makes managing personal finances easy. You can record your personal and business financial transactions, generate spending reports, review your daily, weekly, and monthly financial data, and manage your assets with Money Manager's spending tracker and budget planner.
It does not just record your money coming in and out of your account but deposits your money into your account as soon as your income is input and draws money from your account as soon as your expense is input.
The app also shows your budget and expenses by a graph so you can see the amount of your expense against your budget quickly and make suitable financial inferences
For the privacy/security conscious, you can secure your transactions by adding a passcode to the app, preventing anyone from accessing your data if they open the app.
Money manager also allows you to transfer between assets making your personal and business asset management more efficient. Additionally, you can manage your salary, insurance, term deposit and loans easily by setting automatic transfers and recurrent transaction rules.
Based on the data you've entered over time, you can instantly see your expense by category and changes between each month with your income/expense indicated by a graph as well.
Finally, you can export the data in Excel format, and if you're switching phones no need to worry, you can connect your google drive account for backup and restore.
Oh and there's dark mode.
All these features are available by default on the free version. The paid version gives you these extra features.
– No Ads.
– Unlimited Assets (In the free version, limited to 10.)
– Edit PC (http://youtu.be/5S4S3EQ3AZE)
If your resolution is to stay fit
Home Workouts provides daily workout routines for all your main muscle groups. In just a few minutes a day, you can build muscles and keep fit at home without having to go to the gym. No equipment or coach needed, all exercises can be performed with just your body weight.
The app has workouts for your abs, chest, legs, arms, and butt as well as full-body workouts. All the workouts are designed by experts. None of them need equipment, so there's no need to go to the gym. Even though it just takes a few minutes a day, it can effectively tone your muscles and help you get six pack abs at home and stay fit.
The routines are designed to make sure you exercise in a scientific way. With animations and video guidance for each exercise, you can make sure you use the right form during each exercise.
The app lets you set reminders for your workout and synchronizes with your fitness app like Google fit and Apple Health.
It's free but has paid unlimited access to all features for USD $39.99/year.
If your resolution is to sleep better
Struggling to catch enough zzz's? There's an app for that (no surprise there!). In fact, there are so many sleep apps that promise to help you fall (and stay) asleep that it can be hard to figure out which ones are worth a try. That's I've picked the best free one for you.
If you want to learn how you slept, the Sleep Cycle app is for you. It tracks your sleep patterns and provides tips to optimize your snooze time. Plus, it has an alarm clock that gently wakes you up when you're in your lightest sleep phase so you'll wake up feeling refreshed.
Sleep cycle doesn't need you to put anything under your pillow or to wear on your body – Simply turn it on before going to bed and place your device on your nightstand or close by on the floor. Sleep Cycle uses sound analysis to identify sleep states, using your microphone as a sleep recorder, tracking your movements in bed.
Just keep in mind that no sleep tracker is 100% accurate so if you're really struggling with your sleep, you may need to see a dedicated sleep specialist.
If your resolution is to improve your writing and grammar
Grammarly is the writing world's go-to spelling and grammar checker outside of standard word processors. Like any good editor, it underlines the errors and weak phrases in your writing — but Grammarly also goes above and beyond by providing a label and detailed reason for each correction, so you'll actually learn from your mistakes
On top of these notes, Grammarly has a number of nuanced features to ensure your writing accomplishes exactly what you want it to do. You can "set goals" in terms of your audience, formality level, and tone (happy, confident, urgent, etc.) and analyze your text for factors like clarity, engagement, and delivery.
All this makes for a very well-rounded writing experience.
Grammarly is also available as native desktop clients for both Windows and macOS; browser extensions for Chrome, Firefox, Safari, and Edge; and a Microsoft Office add-in (now on both Mac and Windows platforms).
If you want more features, like customized checks for different document types, a plagiarism filter, and a function to help diversify your vocabulary, among other extras, it'll set you back $29.95 per month, $59.95 per quarter, or $139.95 per year.
If your resolution is to read more
Cut the habit of scrolling through Instagram, watching TikTok videos, start a reading habit with the Amazon kindle app.
The Kindle app puts over 1.5 million books at your fingertips. It's the app for every reader, whether you're a book reader, magazine reader, or newspaper reader — and you don't need to own a Kindle eReader to use it. You can get over a million books from the Kindle Store or enjoy popular magazines and newspapers, such as The Economist, The Spectator, The Guardian and The Daily Mail.
If you want free books, you have over a million choices such as Pride & Prejudice, Treasure Island, and many more.
You can also easily shop for e-books, including bestsellers and new releases, for £3.99 or less and 200,000 Kindle-exclusive titles that you won't find anywhere else, including books by bestselling authors.
The app has a Built-In Dictionary, access to Google and Wikipedia, which allows you to look up words instantly while you're reading your e-books. Simply press and hold a word to view its definition or use the Google and Wikipedia links to get more information.
If your resolution is to learn a new language
When it comes to language learning apps, there are so many good ones it's so difficult to recommend just one. So, in this case, we went with the most popular one.
When I try to describe any learning app, I get the question "is it like Duolingo?" There is no list of best apps that doesn't mention it. With over 100 million users. The app has become a staple example of mobile language learning.
Duolingo is a fun, free app for learning 35+ languages through quick, bite-sized lessons. Practice speaking, reading, listening and writing to build your vocabulary and grammar skills.
The lessons were by language experts and loved by hundreds of millions of learners worldwide, Duolingo helps you prepare for real conversations in Spanish, French, Chinese, Italian, German, English, and more.
Whether you're learning a language for travel, school, career, family, and friends, or your brain health, you'll love learning with Duolingo.
If your resolution is to learn how to code
Grasshopper is developed by Google, and is one of the more accessible ways for beginners to start coding—you can dive in and be typing and arranging commands in minutes. While it focuses exclusively on JavaScript, the concepts that the platform covers, apply to any programming language.
The coding exercises are set up like puzzles to solve, with a well-judged balance of instructions, actual coding, and end results on the screen. To begin with, you just have to move elements around on a screen before you actually get to type anything, and the progression speed is nice and steady.
The exercises are short, so you can jump in and do one whenever you have a spare five minutes on whatever device you use—Grasshopper will sync your progress automatically.
The app won't take you as far as some other code teaching platforms can—you won't get a job off the back of using Grasshopper—but it's a really friendly introduction if you're totally new to this, and it's completely free to use.
If your resolution is to stay focused
The premise is simple – every time you begin to focus, you plant a seed. This seed will grow into a tree for as long as you stay on the app and resist the temptation to use your phone. If you keep that focus up, you'll eventually have your very own virtual forest.
Guilt is a pretty great motivator, and Forest requires you to murder a tree if you want to give in to the temptation of a distraction. Or that's my dramatic take on it. The basic concept is this: You plant a tree and set a timer for how long you want to be productive. As long as you don't use your phone (or go on certain sites, if you're using the Chrome extension), your tree continues to grow. But if you use your phone or banned sites before the timer goes off, your tree withers. Over time—through lots of focused productivity sessions—you grow a beautiful, lush forest, and honestly, it's hard not to get attached.
What's better is that this reward-based model translates to actual change. You can earn virtual coins for focusing, then use them to plant trees through "Trees for the Future," Forest's not-for-profit partner.
If your resolution is to drink more water
Hydro is a perfectly serviceable water reminder app with the basic features, one of which is a water demand calculator to see how much water you actually need. Additionally, it comes with reminders, charts to track your water intake, cloud backup support, cross-device syncing, and it supports approximately ten languages. The premium version removes advertising and gives you additional backup options. It looks good and it worked well in my testing. I don't think I can't ask for much more than that.
Hope these apps help you to stick to your new year resolutions.
Happy New Year!