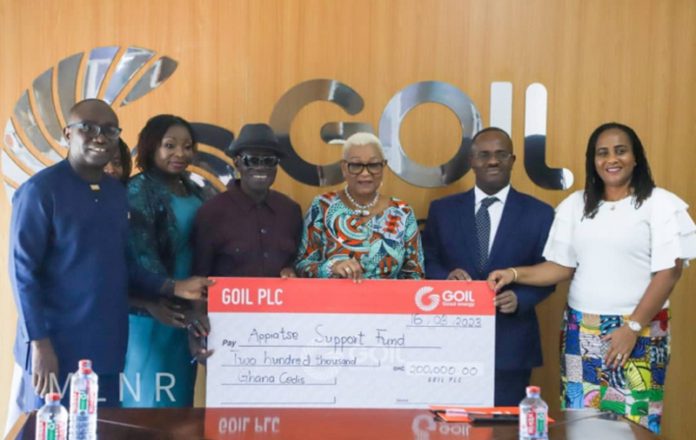 The Chairman of the Appiatse Support Fund, Rev. Dr. Joyce Aryee, has disclosed that so far, the fund has received an amount of GHC62 million as donations from various institutions, organisations and individuals.
These donations are all in support of the Reconstruction and rehabilitation of the Appiatse township which was razed by fire early last year.
The Chairman revealed this when she received a GHC200,000 donation from Goil on Monday, 20th March, 2023, as their contribution towards the reconstruction of Appiatse.
Madam Joyce Aryee explained that aside contributions received from various organisations, Maxam Company, the mining firm implicated in the accident, has also been consistent in paying their fine and that she noted, has contributed to the GHC62 million amount raised. 
On behalf of her team and the people of Appiatse, she expressed their profound gratitude to Goil for such a generous donation, saying that this will go a long way to help them do timely payments to contractors. Rev Aryee hoped that the gesture of love by Goil will mark the launch of a second wave of donations from institutions that are yet to donate to the fund, as more money is needed to complete the entire project.
Rev. Joyce Aryee outlined a number of challenges contractors face at the site, particular among them being incessant rainfall in the area, which slows down progress. But Madam Joyce Aryee was hopeful that by September, 2023, most of the buildings would have been fully completed for the residents to move in.
The Managing Director of Goil, Mr. Kwame Osei-Prempeh in his remarks said having heard of the unfortunate incident that happened in Appiatse, Goil as a socially responsible corporate entity, decided to also join the frail and contribute towards the reconstruction of the model green community.
He, however, explained that although their donation to the Fund delayed, "better late than never," he added.
Mr Osei-Prempeh also mentioned that at the initial stages of the incident Goil made some donations to Appiatse directly before the fund was instituted.
He applauded the efforts of Rev. Dr. Joyce Aryee and her team for the good work being done for the people of Appiatse and humanity.