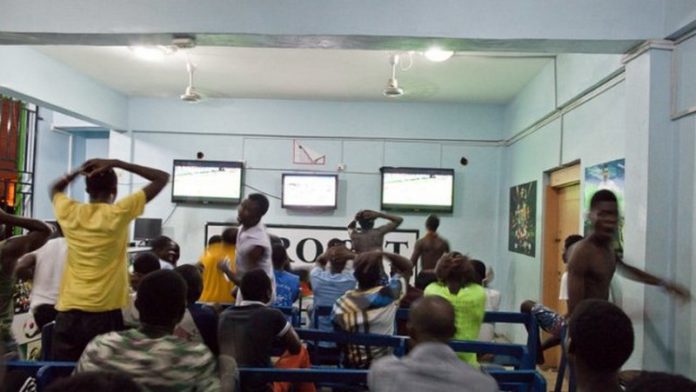 The inability of predictions by fast-rising social media sensation, Oswald, to materialise by the end of 90 minutes of football, has infuriated many social media users.
The punter topped the trends for his accurate sports predictions which won him over ¢5,000 in sports betting on Wednesday night.
I didnt want to post the slips because the illuminati might fix the teams to cause mass losses 😂 but since there's still like 50+ people in my DMs asking for slips I'll tweet them. pic.twitter.com/pI9vLAi4sL

— Limitless Oswald ✨✨✨ (@oswaldtheson) December 11, 2019
Straight wins saved the day!!! 20gh for 1600gh 🤑🤑🤑🤑🤑🤑🤑🤑🤑🤑🤑🤑🤑🤑🤑🤑🤑🤑🤑🤑🤑🤑🤑🤑🤑🤑🤑🤑🤑🤑🤑🤑🤑🤑🤑🤑 pic.twitter.com/luI2NDQjz0

— Limitless Oswald ✨✨✨ (@oswaldtheson) December 11, 2019
Ago stake Oswald ein odds today plus all my savings. If it boom, adey go buy Flagstaff house take turn night club.

Nothing better dey go on for there!

— armah ひ (@awww_ghostTears) December 12, 2019
This feat attracted the attention of many after punters on Twitter who then looked up to him for the next prediction with the hope of winning big. As promised, Oswald created a Telegram channel with over 40,000 members where he dropped his next batch of football predictions on Thursday.

Believers also complied and placed their bets accordingly.
And it ended in tears… #Oswald pic.twitter.com/yR531oQcaH

— Maj. Hero (@maj_hero) December 12, 2019

But as one saddened twitter user would describe the rather unfortunate outcome, "it ended in tears".
Oswald bet! it ended in tears for the man seated. Was he given a fake odds or what? I learnt he alluded to the manipulation of the computer meanwhile the players are still joggliy the ball around the 18yard box 😂😂 eei pic.twitter.com/4aEhQbjOFA

— #Oswald charge 😃 (@Ehansoni1) December 12, 2019
Oswald's gang bleeding and leaving the TL to sleep in tears like… pic.twitter.com/emcas6g8Ic

— ALLEN OBENG ASARE (@MenameisAllen) December 12, 2019
Now Oswald ein group turn motivational group 😂🤣🤣
He just posted " Never give up in life "

Siaaaaaa nbs tears Ghana dey come receive tonight

— Sey❤ (@sey_amen) December 12, 2019
Missed Oswald's Staking Oswald's
Odds yesterday. Vs. odds today https://t.co/zj2Uwe0QNb

— shaggy🤴🏽🇬🇭 (@_MrPatryk) December 12, 2019
Oswald after 10pm pic.twitter.com/cOc7WgYGQT

— Clive (@CliveAnnan) December 12, 2019
Gh tweeps when they the see Oswald 😂😂😂😂😂😂😂😂 pic.twitter.com/v2284dGvbd

— Alkaline🤴🏿 (@eli_cyfa) December 12, 2019
Arsenal is losing

Oswald 😂😂 yieee Mek)b)) bosea oo pic.twitter.com/EdkNkr7ArS

— Kay 💧 (@Kaypoisson1) December 12, 2019
Some are also contemplating whether the whole move may have been a well-orchestrated publicity stunt to drive interest in the industry.
You people what if Oswald was just pulling crowd and money for the betting companies ? 😂😂

— Nungua Cardi B🇬🇭 (@elly_serwaaa) December 12, 2019