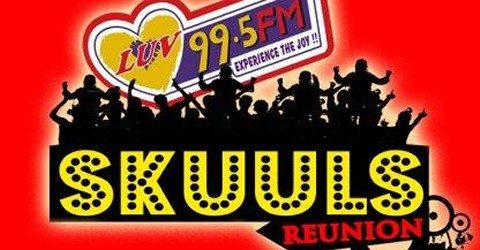 This year's edition of Luv Fm's Skuulz Reunion in Kumasi promises to attract, perhaps, the biggest crowd ever for a single event in the Garden City.
Participating old school mates, companies and other associates look forward to an unforgettable experience.
Ahead of the D-Day, discussions have largely centred on funny happenings in school such as how relationships were cultivated and nurtured.
Several old mates recounted to Luv News how their alma maters have shaped their love lives.
"During my time at Prempeh College in the early 90's, we were even groomed on how to approach ladies from other schools and that boosted our confidence in wooing ladies. It's no surprise the Yaa Asantewaa and St. Louis Girls still can't have enough of us," recounted an Amanfoo.
But whether or not such relationships blossomed into permanent partnership or fizzled into nothingness is a subject on its own.
Over fifty school associations have registered for the annual fun-filled event   slated for Saturday at the Baba Sports Stadium.
Rousing in-studio performances have already set the tone for Saturday.
For over a decade, the Skuulz Reunion has lived up to its billing as the single biggest outdoor event in Kumasi.
This 2015 edition has seen more school associations from outside the Ashanti Region coming on board.
It has also seen a high turnout of oldies joining the youngsters and girls to do the school days stuff on air.
The Skullz Reunion creates an avenue for participants to re-establish contact with their old friends while exploring social and business opportunities.
Nostalgic feeling already hits fever pitch as school association representatives showcase what sets their alma mater apart from others.
It's always interesting to hear the frolics of the old folks as they dish out exhilarating cheer songs, popularly known as "Gyama".
The zeal of schools to outdo each other adds more fun to the in-studio sessions as healthy rivalry is shown in diverse ways.
In the midst of the bragging, old skull folks display intellectual skill in the sharp brain contest.
This edition of the skuulz reunion will also see the second coming of hip life artiste, Kwaw Kese, who had an encounter with the law for smoking "wee" just after performing at the reunion last year.
Now a freeman, "Abodam" jokingly tells the regional police commander, DCOP Kofi Boakye to expect to see him (Abodam) in the Garden City.
"Somebody should tell Kofi Boakye that I will be in town on Saturday so he should expect to see me," he said in a promo to hype his coming.
Self-styled Dancehall King, Shatta Wale, is also billed to thrill participants at the event grounds.
Event Coordinator, Louis Lamis, says all is set for Saturday and promises an unforgettable experience in this edition.
"The venue is ever ready to hold the event; we have set-up the dais already. We have some new additions to the Skuulz Reunion. We've introduced the Seniors Corner where the oldies can do their own thing. There is also a Basketball Competition, table tennis and snooker contest among other exciting activities," he said.
Now, do you have any reason to miss out on the Skullz Reunion?
Make no mistake!!