President Akufo-Addo has endorsed calls to maintain the purity of Christian doctrine.
He observes growing public concern about widespread and strange statements made in the name of Jesus Christ.
The President was responding to submissions by General Superintendent of the Assemblies of God, Ghana, on the subject.
Reverend Professor Paul Frimpong Manso bemoaned the emergence of false prophets and charlatans who deceive and cheat their congregation in the name of the Holy Spirit.
According to him, the Assemblies of God Ghana does not subscribe to what he described as attempts to deceive and cheat vulnerable Ghanaians in the name of religion.
ALSO READ
"Assemblies of God as one of the classical Pentecostal and a key member of Ghana Pentecostal Council wants to speak aloud that we do not agree; we do not accept, we do not compromise with the wrong teachings in the name of the Holy Spirit, deceiving and cheating vulnerable people in our country."
He was speaking at the 29th Biennial General Council Meeting in Kumasi.
Reverend Frimpong Manso asked the government and other stakeholders to intervene and save Ghanaians from the hands of such false prophets.
He noted charismatic and Pentecostal churches have been blinded by activities of characters who are bent on destroying the image of God.
"False prophets and prophecies are going on in the name of Christ. Charismatic and Pentecostal churches have been blinded with all these kinds of charlatans and destroying the image of God," he said.
He also warned ministers of the Assemblies of God Ghana to disassociate themselves from the false prophets and charlatans.
"I'm addressing our pastors, have nothing to do with these people. Don't bring them to your churches because they will go and destroy your churches," he warned.
"The constitution of the land permits freedom of religion but that constitution also give the president and leadership of this country the mandate to protect the citizens," he added.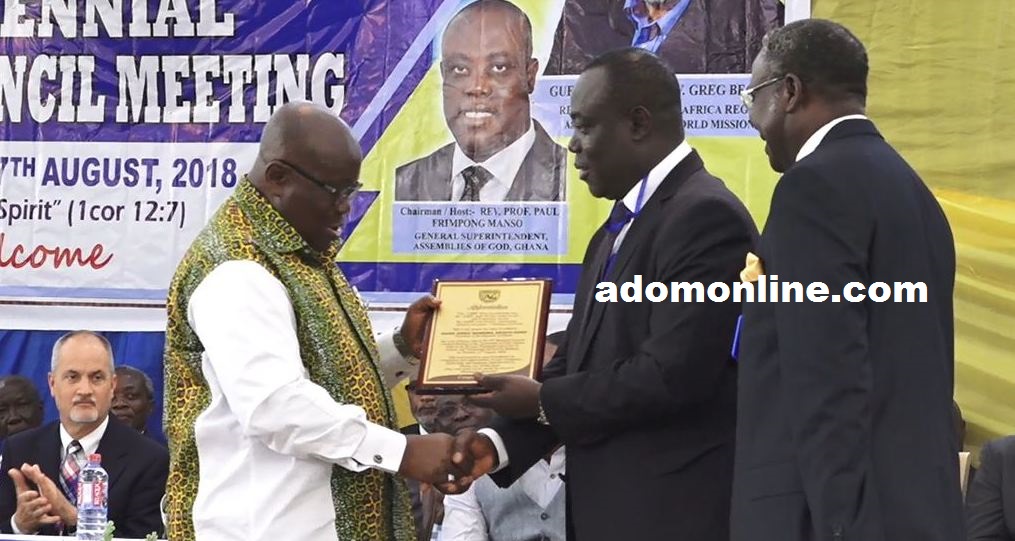 Prof Frimpong-Manso recommends one-man churches be compelled to belong to either the Christian Council of Ghana, Ghana Pentecostal Council or National Council of Charismatic Churches.
He also advocates licensing of the ministers of the gospel before they are allowed to operate.
"See how the Ghana Medical Council is organized; see how the Legal Council, the lawyers of which His Excellency [President] is a member is organized. I wish that the pastors who are operating as lone-rangers and sometimes businessmen should be placed under these bodies or they are not given a license to operate."
President Akufo-Addo who was the Special Guest Speaker says he is encouraged by the call, adding it has come at the right time.
"I am very, very encouraged by the call for the maintenance of purity of the Christian doctrine. It is very welcomed at the time when we are hearing all kinds of strange statements being made ostensibly in the name o Jesus Christ."