President Akufo-Addo has suspended his Upper West Regional Minister, Sulemana Alhassan   following reports of political vigilantism in the region.
This was after he ordered for the release of some party members who vandalized  the office of the Upper West regional NADMO  office.
A statement signed by the Director of Communications, Eugene Arhin stated that the Minister will remain suspended pending investigations into the matter.
"The President of the Republic, Nana Addo Dankwa Akufo-Addo, has suspended, with immediate effect, from office, the Minister for the Upper West Region, Alhaji Sulemana Alhassan, pending the outcome of the investigation into the unfortunate incidents that occurred at the premises of the Upper West Regional office of the National Disaster Management Organisation (NADMO), in Wa, on Wednesday, 31st January, 2018.
"President Akufo-Addo reiterates his commitment to the application of the laws of the land, which must occur without fear or favour, affection or and without recourse to the political, religious or ethnic affiliations of any citizen of the land".
Below is the full statement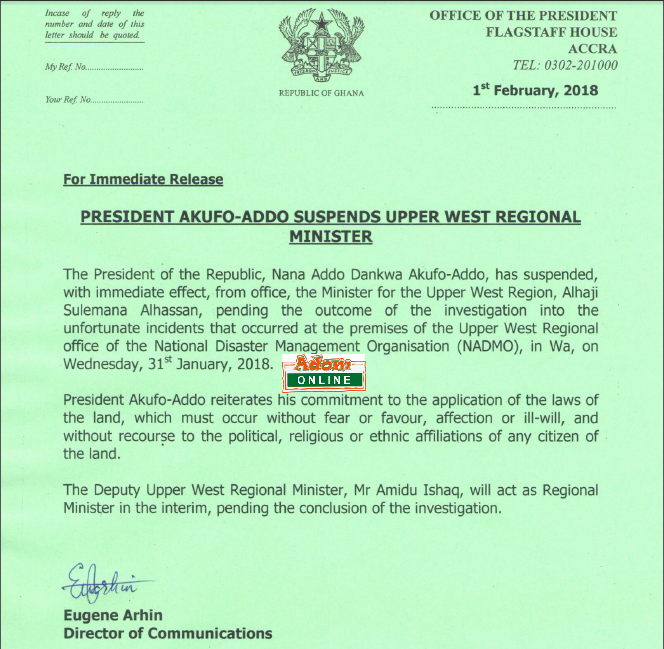 Background
On the 31st January 2018, at about 4:55pm, a group of people numbering about 30, arrived at the Regional Coordinating Council (RCC) forecourt in cars.
These angrily looking people besieged the regional office of NADMO seeking to beat up all NADMO staff.
In an attempt to break into the Regional Director's office, his aid prevented them for a short while, but they eventually overpowered him.
The police were called to intervene in the situation. They came to arrest some of the individuals but the Regional Minister prevented their arrest.
This led to some NADMO staff going on strike and accused the Regional Minister of shielding the hooligans.
The workers, led by the Regional NADMO Public Relations Officer, Erica Sieyi vowed that they will not return to work until the youth are arrested.
To ensure the rule of law is adhered to, the President has ordered the suspension of the Regional Minister to serve as a deterrent to others.