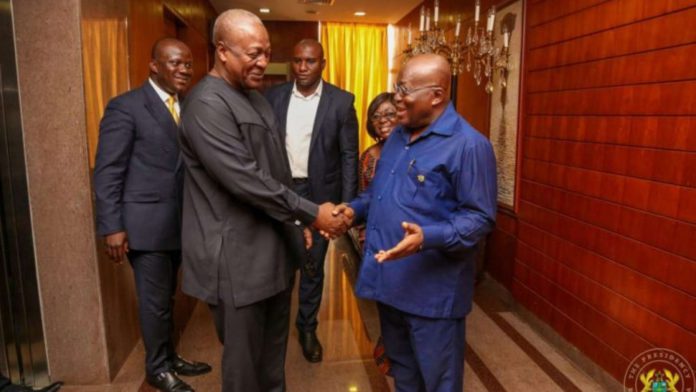 Akufo-Addo must be told "unplanned budget deficits've bearing cedi depreciation" – Mahama January 30, 2020 2 Shares
Business John Mahama Former President John Mahama has wondered why the Akufo-Addo government formed a 38-member committee to tackle the depreciation of the cedi against the international currencies.
In his third Facebook Live session which addressed issues of the economy, the flag bearer of the biggest opposition party, the National Democratic Congress (NDC), said: "Following the government's breach of its own financial responsibility act, one wonders why the president would set up a huge committee to consider the reasons for exchange rate fluctuations".
"He [Akufo-Addo] must be informed that unplanned budget deficits have a bearing on the economy and on the exchange rate depreciation", Mr Mahama said.
The Ministry of Finance established the Forex Development Committee about two weeks ago, to arrest, to some extent, the perennial rapid fall of the cedi against other major foreign currencies, particularly the US dollar.
Last year, the local currency lost about 12.9% despite an improvement in the fundamentals of the Ghanaian economy.
Speculative activities are one of the major factors that analysts have ascribed to the depreciation of the cedi.
The Ministry of Finance decided to complement the Bank of Ghana's policy measure efforts to curtail or slow down the fall of the cedi.
A promise to that effect was made by Finance Minister Ken Ofori-Atta.
Addressing the media during the inauguration of the committee in Accra on Thursday, 16 January 2020, a Deputy Finance Minister, Mr Charles Adu-Boahen, said the move, further complements the government's efforts to stabilise the cedi.
According to him, the committee will review the current FX regime, identify the inherent constraints in the system and offer workable alternatives by way of policies and programmes which potentially, would reduce FX risks in the economy.
"Foreign exchange volatility remains a major concern for the government as this impact real output growth and also increase in price inflation. As empirically established, the seasonal fall in the value of the cedi can be explained by external headwinds and cyclical domestic demands for forex by corporates and individuals as well as the energy sector. The other factor exacerbating the situation is the currency market speculations," he stated.
He said the committee will critically look at the role of automation and digitisation as a critical enabler of FX reforms.
The committee is chaired by Mr Ofori-Atta.
The membership of the committee is drawn from the Office of the Vice-President, Bank of Ghana, Agriculture Ministry, Ghana Union of Traders Association (GUTA), Association of Ghana Industries, some universal banks among other key stakeholders.