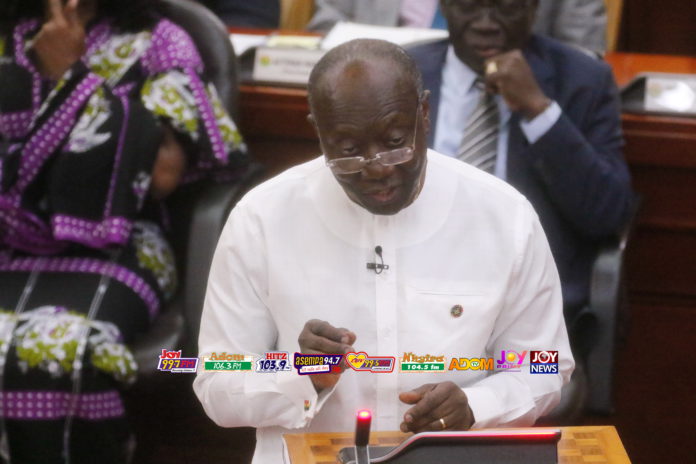 The Finance Minister, Ken Ofori-Atta, has said provisional fiscal data present indicates that government's fiscal operation of the first nine months of 2019 shows 2019 has been a very good year for the country.
According to the Finance Minister;
Overall fiscal balance on cash basis resulted in a deficit of Ghs 15.7 billion equivalent to 4.5 per cent of GDP as against a fiscal deficit of Ghs14.2 billion equivalent to the targeted targeted 4.1 per cent of GDP.
Total revenue and grants for the period amounted to Ghs 36.3 billion refelecting a 10.5 per cent to GDP. An out turn representing a per annum growth of 9.2 per cent despite a shortfall from its Ghs 42 billion target, representing 12.1 per cent of GDP.
Total expenditure including arrears clearance amounted to Ghs 51.9 billion cedis representing a 15.1 per cent to GDP as against a target of Ghs 56.1 billion equivalent to 16.2 per cent of GDP. Indicating a reduction in total expenditure.
Primary balance for the period was Ghs 916 million representing a 0.3 per cent to GDP against a primary surplus target of Ghs 201.7m representing 0.1 percent of GDP, hence government recorded gains from trade.
Total public debt increased form Ghs 122.3 billion in 2016 to Ghs 208.6 billion including cost of banking sector clean up at the end of September 2019, raising the debt to GDP ratio to 60.55 per cent as at end of September 2019.
Inflation declined from15.4 per cent in 2016 to 7.6 per cent in 2019 and has been in single digits since april 2019.
Interest rate has also declined with average lending rate declining from 31.7 per cent in 2016 and stagnating at 24 in 2019, with government promising to actively work to remove structural bottlenecks to support lower interest rates.
Cedi depreciation against dollar averages 7.8 since 2017 to 2019.
Based on the performance of the economy for the first nine months of the year, revised projections for end of year were:
Total revenue and grants to increase to Ghs 54.6 billion equivalent to 15.8 percent of GDP.
Fiscal deficit projected to reach about 4.7 per cent to GDP with a further increment in primary surplus to 0.9 per cent of GDP.
The Finance Minister attributed the general under performance of tax revenue to shortfall in international trade, taxes on income and property taxes, import duties, customs, Value Added Tax, National Health Insurance Levy and higher admittance of import goods into the zero rated and tax exempted brackets.