Mobile money regulator, Bank of Ghana (BoG) has identified the overwhelming growth in mobile money wallets/accounts, over the last two years, as the main attraction for fraudsters.
Director of Payment Systems at the Central Bank, Dr. Setor Amediku disclosed that as of today, there are over 22 million mobile money accounts as against 11.6 million regular bank accounts.
He noted that whereas the huge growth in mobile money wallets has boosted the country's drive towards greater financial inclusion, wallet holders have not been able to keep up with the technology so they have also become vulnerable to more sophisticated fraudsters.
Dr. Amediku was speaking at a Mobile Money Fraud Forum as part of the ongoing Cybersecurity Week in Accra.
Days before the forum, mobile money fraud became a topical issue following a damning revelation by the police that merchants and staff of telcos are involved in the fraud but the telcos were protecting them.
Following the revelation, the telcos have come under heavy public criticism for allowing illegal registration and activation of SIM cards used in committing such fraud.
Dr. Amediku said since the BoG replaced the Branchless Bank Guidelines with the Electronic Money Guidelines in 2015, the growth in mobile money has been overwhelming, but now it is time for stakeholders to collaborate to stem the emerging fraud on the platform.
He said BOG has a number of detective and preventive regulations to ensure the platform is safe and secure, adding that they are also putting together a Mobile Money Merchants Map to capture the location of the over 100,000 agents across the country.
This, he said, would make it much easier to trace the any fraudulent activity to the particular merchants involved, particularly with the new digital addressing system in place.
Interoperability
Dr. Amediku also mentioned that next month, interoperability of the mobile money platforms is expected to take off, and that will reduce cost for both telcos and customers, and also promises to boost the safety and security of the platform.
He explained interoperability means money can be transferred directly from a wallet on one network to a wallet on another network.
"This means that merchants will need only one device to do all transfers, while customers will be free from the high cost of generating a token when sending money from one network to the other," he said.
MTN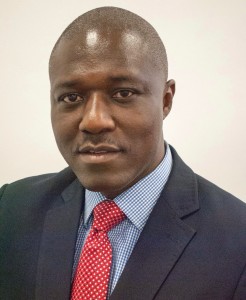 General Manager for MTN Mobile Money, Eli Hini stated that the mobile money platform is doing at least five million transactions daily and that is a sure attraction for fraudsters.
Indeed, that is not far from the truth, as it emerged during the cybersecurity week that, per police records as of today, about 90 of all crimes involve the use of mobile phone or the internet (cyberspace).
Eli Hini said MTN has systems that are able to detect unusual activities and trace them to their specific locations, adding that recently they have noticed that Swedru, a town known for cybercrime, popularly known as "Sakawa", has also become notorious for mobile money fraud.
"Our systems are able to detect unusual activities on the platform and then we trace it to the exact location – through that we have arrested some fraudsters including some merchants and handed them over to the police," he said.
But Hini insisted that one of the main tricks of fraudsters is to get the customer to either mention or dial their mobile money PIN, and that is how they get access to money in people's wallets.
He therefore advised the public to "never dial or mention your PIN to anyone who calls you on phone and asks you to do so – and never follow any SMS instruction and dial your PIN unless you are doing a transaction yourself," he said.
Hini said in spite of everything that is happening on the mobile money platform recently, it still remains a safe and convenient means of financial transaction, and a panacea for the country's financial inclusion ad cashlite society agenda.
NCA
Director-General of the National Communications Authority (NCA), Joseph Anokye said NCA's mandate is to ensure telcos provided good quality of service to the consumers, but their mobile money service is not exactly under the purview of the NCA but rather under the BoG.
He however noted that to the extent that the industry is pursuing an interoperable platform, it has become necessary for NCA and BOG to collaborate in ensuring the system is safe and secure for consumers.
Joe Anokye also asked the telcos to learn from NCA and apply the rules strictly on recalcitrant merchants "otherwise the canker will not go away."
Ghana Card
Head of Information Technology at the National Identification Authority (NIA), Matilda Wilson said registration for the new smart Ghana Card will start on November 20, 2017 and that will also add to the security of the mobile money platform.
She explained that the SIM card re-registration exercise will be done using the Ghana Card, which would have strictly verified bio-data of holders, including digital address, finger prints and others.
"It will therefore become difficult for anyone to do illegal registration of SIM cards and use it commit cybercrime without being identified and traced to their location," she said.
Minister
Deputy Minister of Communications, Nenyi George Andah, who was the chair and moderator for the forum, urged the telcos to keep educating their customers and merchants on personal security on the mobile money platform.
He also charged them to have strict rules for merchant identification so that recalcitrant merchants could be traced easily and arrested when they engage in fraud.
Nenyi George Andah is confident that with the digital addressing system and the coming Ghana Card, mobile money platforms will have a boost in terms of Cybersecurity and fraud will become a very difficult thing to do.