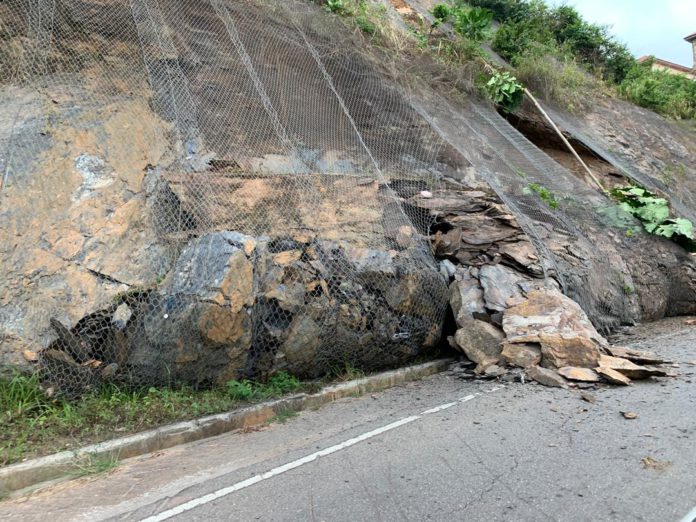 The Ghana Highways Authority (GHA) has received proposals from five slope protection specialized construction companies with the expertise to handle the Peduase falling rocks which have become a major source of concern to the traveling public on the Akuapem Range.
The Accra-bound section of the road has remained closed to motorists since October 18, following the falling of boulders on that stretch.
The companies, according to the acting Deputy Chief Executive Officer in charge of Maintenance at the GHA, Mr. Christian Nti, were invited by the authority to help find a permanent solution to the problem.
He explained that all companies that had expressed interest in the job, which was a highly specialized area, had made presentations to officials of the GHA and were awaiting evaluation before the contract would be awarded.
Earlier contract
Earlier in 2015, the GHA awarded a similar contract to CST Limited, a local company, to undertake repair works to prevent the rocks from falling.
The company was required to provide slope repairs and protection to portions on the curve around Ayi Mensah to the Peduase Lodge, where rocks had been falling onto the Aburi-Accra section of the highway.
"That contract, however, has been terminated due to non-performance," Mr Nti stated.
"Currently, the Mobile Maintenance Unit (MMU) of the GHA, with support from the National Disaster Management Organisation (NADMO), is observing the situation and will open the closed section of the road once it is safe to do so," Mr Nti said.
"We have been monitoring the situation on a daily basis and even though the closure of the Accra bound lane is inconveniencing motorists and the travelling public, we are appealing to all motorists to bear with us as we strive to find both short-term and long-term solutions since the safety of the travelling public is paramount," he stated.
A visit to the site by the Daily Graphic on Friday, November 15, 2019 showed some buildings merely hanging onto the falling rocks. Meanwhile, more construction was also ongoing despite the looming danger.