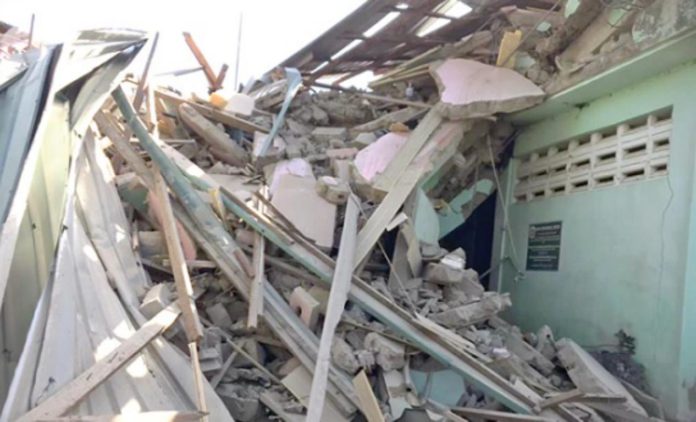 A three-storey building has collapsed at Winneba in the Central Region.
This brings to five, the number of storey buildings that have collapsed across the country this year.
The Winneba Municipal Fire Service Commander, DO2 Kwesi Hugues, told the Daily Graphic that five persons who were in the building managed to escape unhurt.
He said the service had a distress call at about 3 :15 p.m. last Tuesday about a collapsed structure after the Winneba Roundabout on the Accra-Cape Coast Highway.
According to him, the building had been completed with tenants in it, adding that fortunately nobody got hurt, because as of the time of the collapse, most of the people had gone to work.
However, he said, five of the tenants who were around came out before the building crumbled.
Trapped
"Fortunately, nobody got trapped.
They knew the building had issues so they were always watching out for warning signs of collapse.
"What happened is that some had left for their daily businesses while others had left for school.
So when we got here, those who were apparently not doing anything were the ones in the house; they are about five and all of them came out," he said.
DO2 Hugues said the property of the tenants, however, got destroyed with nothing to salvage.
He said when they enquired whether the occupants of the facility had money in the collapsed building, they all responded in the negative.
"We are now standing by to meet the owner of the house to have further discussions with him," he said.
He said the fire service arrived on time to the admiration of other residents, and "we conducted a head count and fortunately, everybody was around and so we made sure that the electricity connection to the house was disconnected".
Asked whether or not he knew how long the building had been at the site, he could not give the exact number of years but said it had been there for a long time.
Collapsed buildings
Early this month, three multi-storey buildings collapsed at three different places within a spate of one week.
They are a six-storey building under construction at the University for Development Studies, City Campus at Sagnarigu in Tamale in the Northern Region, a three-storey building at Nanakrom in the Adentan municipality as well as a three-storey building under construction at the SDA Junction at the Adentan side of La-Nkwantanang Madina, in Accra.
That incident resulted in the death of one person, with three others sustaining varying degrees of injury.
Committees
Following the collapse of the earlier buildings, four ad hoc committees were set up by key professional bodies to investigate the cause of the collapsed buildings in some parts of the country.