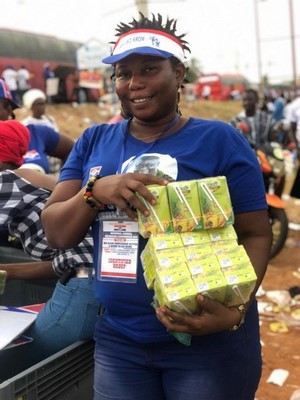 On the sidelines of the New Patriotic Party National Delegates Conference held Sunday, December 22, 2019, members of the party led by its volunteer group, NPP Loyal Ladies, distributed products from some factories under government's 1D1F initiative.
Delegates who had converged at the Trade Fair Centre at La in Accra were given Eku Juice from the Ekumfi Juice Factory in the Central region and Potato bread and chops from Casa de Ropa Potato Processing Factory at Bewadze, also in the Central Region.
Speaking to Riftka Ayim a leader of the NPP Loyal Ladies, she shared that they distributed over 20,000 boxes of Eku juice and Potato bread and chops at the Conference.
The Eku juice factory located at Ekumfi in the Central region is the first factory to be completed under the 1D1F.
ALSO READ
Ayim was very excited about how people accepted the Ghanaian brands and hoped the demand for these products would be sustained.
Speaking to a cross-section of delegates at the rally, they urged other factories to display their products so Ghanaians will know what the NPP government is doing to industrialise the country.