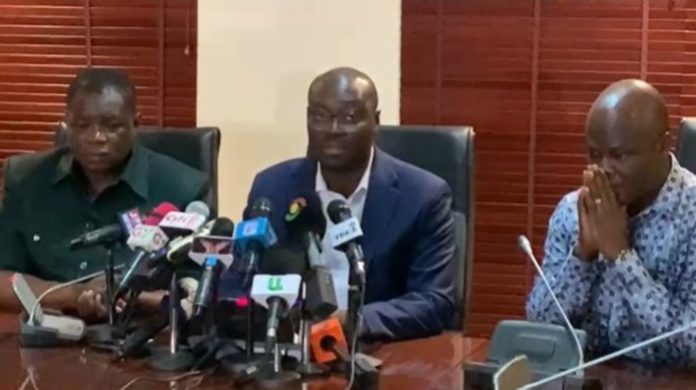 The Minority in Parliament has stated they will be carrying through a directive from the leadership of the National Democratic Congress (NDC) to reject the new ministers appointed by President Nana Akufo-Addo.
Addressing a press conference ahead of the vetting on Monday, the Minority Leader, Dr Cassiel Ato Forson, said the side is committed to protect the suffering Ghanaians.
"We in the Minority wish to make it clear that we remain committed to ensuring greater scrutiny and will spare no effort to protect the public purse.
"In line with this, we are taking part in the vetting process so that at the very minimum, we can scrutinise the President's decision in bringing up those nominees," he said.
However, the Minority, according to him, will not subscribe to a consensus vote at the level of the Appointments Committee.
They have, therefore, demanded the immediate reduction of ministers from 86 to 65.
The Ajumako Essiam MP vowed the Caucus will ensure that the deadwood in the government is removed as they also demanded a merger of some ministries.
They want the Ministry of Food and Agriculture to be merged with the Fisheries Ministry and the Chieftaincy Ministry merged with the Tourism Ministry.
Also, they want the Sanitation and the Local Government Ministries to be merged to help reduce the size of the government as well as the Information and Communication ministries and the Transport and Railways ministries also merged.
ALSO READ:
NDC directs Minority to reject new appointees
Minority files motion to compel Finance Minister to summit DDEP for approval
In a press release dated February 19, the NDC explained that this is to help push for the reduction in the size of the current government.
The NDC stated that the party and other civil society organisations have on numerous occasions expressed concern over government's size but the President is yet to act on the calls for a reduction.
Meanwhile, former Minority Leader Haruna Iddrisu and Minority Whip, Muntaka Mubarak, have been removed from the Appointments Committee.