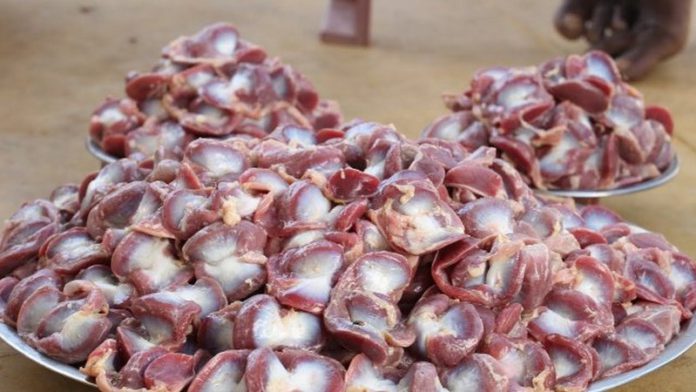 It has emerged that the Veterinary Services Directorate of the Ministry of Food and Agriculture (MoFA) failed to inform the Food and Drugs Authority (FDA) about a health alert received from Brazilian authorities on infested imported gizzards that had found their way into the Ghanaian market.
Ghana's Vet Services, though received an alert from Brazil's Ministry of Agriculture about the potential presence of salmonella pathogens on some four containers of gizzard that had arrived in the country, they failed to inform their counterparts at the port.
This failure to inform their counterparts at the FDA allowed three of the four containers to be cleared by the importers for onward distribution.
It took five clear days after the receipt of the alert for the Vet Services Directorate to take action but when confronted with the issue of possible negligence by his outfit by Adom FM's Dwaso Nsem host, Captain Smart, Director of the Veterinary Services of MoFA, Mr Baah said they needed further clarification on the matter, hence the time lapse.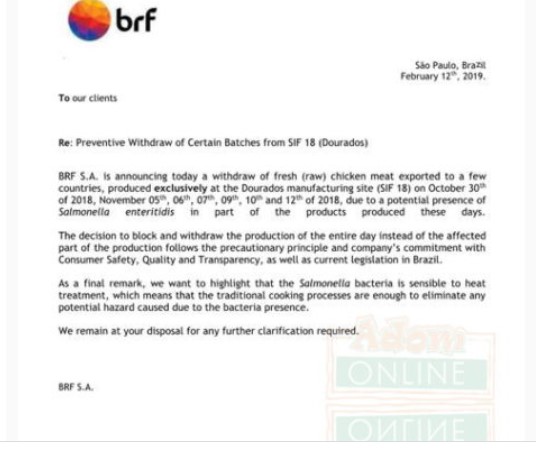 On the same show, Director of Communications at the FDA, James Lartey, said his outfit got to know about the alert from Brazilian officials only last week [February, 2020] when indeed the letter from the Brazilian authorities was written on February 12, 2019 – one clear year after the health alert.
READ ALSO
The lapse in time meant the goods were successfully cleared and put on the Ghanaian retail market for consumption, a situation Mr Lartey blamed on the Vet Services.
"What bothers me is the fact that the Veterinary Services were aware of the alert from the Brazilian Authorities but failed to tell us (FDA)," he said.
"I recently sighted a letter written by the Veterinary Services to the Ghana Ports and Harbours Authority in April, 2019, informing them about the infested gizzards," Mr Lartey said.
He noted that had the Vet Services informed the FDA about the information they received from their counterparts in Brazil, his outfit would have issued a health alert to warn the general public.
READ ALSO
Background
Officials of MoFA recently moved to impound four containers at the Tema Port, after receiving a tip-off from Brazilian authorities about the importation of infested gizzards into the country.
The importers, however, were able to get three of the containers cleared from the port and have succeeded in getting the products into the market.
The last container which could not make it to the market is currently undergoing the process to be destroyed.