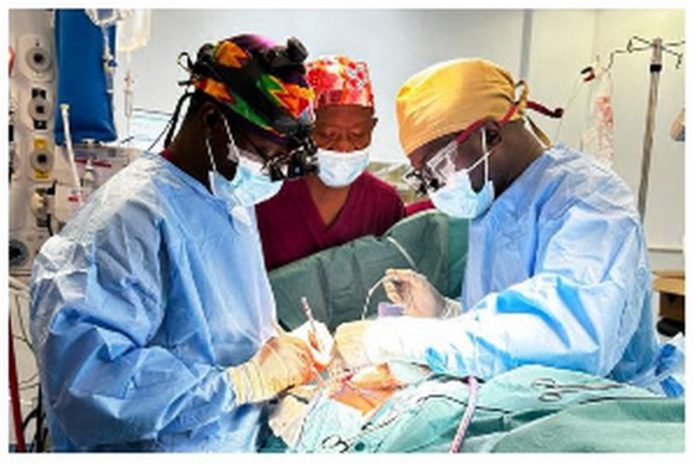 The University of Ghana Medical Centre's Heart Centre has achieved a significant milestone by successfully conducting the first-ever coronary artery bypass surgery in the country.
This intricate procedure, carried out on a beating heart, involves rerouting blood around blocked or narrow arteries to ensure the heart receives an adequate blood supply.
Among the seven patients who underwent complex surgical procedures at the hospital, a 70-year-old retired teacher and a 67-year-old businesswoman were notable cases.
The achievement was officially announced by the hospital in a statement, emphasizing the groundbreaking nature of the procedure and its impact on Ghana's healthcare landscape.
The announcement was shared on social media platform X (formerly Twitter) on November 17, 2023.
The highly skilled medical team at the University of Ghana Medical Centre, credited with the success of this historic surgery, includes Prof. Enoch Akowuah, Dr. Baffoe Gyan, Dr. Gordon Offei-Larbi, Prof. Andrew Owens, and Dr. Ernest Ofosu Appiah, who served as the anesthetist during the procedure.
This achievement not only highlights the expertise of the medical professionals involved but also marks a significant advancement in the country's medical capabilities and the potential for improved cardiac care in Ghana.
Historic off-pump coronary artery bypass surgery (surgeries done on a beating heart) performed for the first time in Ghana at the UGMC. @UnivofGh @UnivGh_VC @mohgovgh pic.twitter.com/FectBf3fit

— University of Ghana Medical Centre LTD (UGMC) (@ugmedicalcentre) November 19, 2023