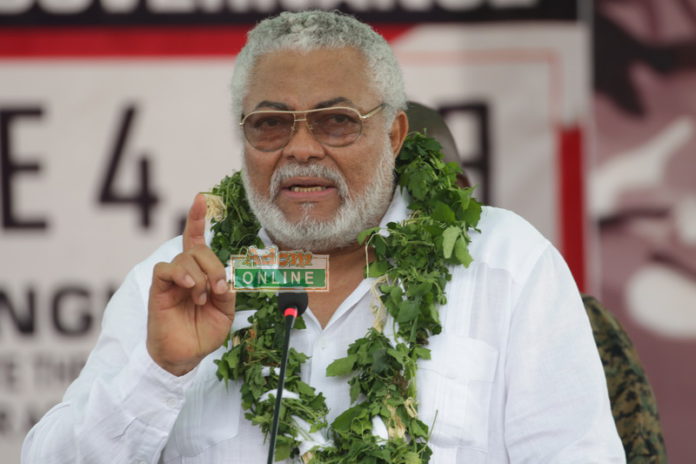 It is true that nothing is done until words are spoken. For the people who believe in the creation story, it is written, "Let there be light," and there was; thou sayest the Lord."
This biblical verse shows the underpinning nature of God's mind, love and power to create; to change and restore a dark situation in the face of the earth.
Besides Dr. Kwame Nkrumah, Ghana's first president, no political leader has had much impact on Ghanaians as Jerry John Rawlings.
He has influenced the lives and souls of Ghanaians and Africans more than any living politicians today.
Jerry john Rawlings came into the limelight during 1979 uprising and through that revolution, the collapsed and bankrupt Ghana, which was nowhere on the world's economic and political map, was finally welcomed and praised by the political world and today, Ghana is a beacon of democracy in Africa and beyond.
As a young man growing up, Mr. Rawlings came face to face with the realities of his world, and understood the microcosm of his societal needs.
He took keen interest in studying the failures and standards in the society, and desired the restoration of those standards capable of uplifting the image and potentials of his people.
In other words, he designed his own standards for excellence and self-actualization centered on key values, with human beings at the fulcrum.
Some of these ideals were demonstrated even as a junior officer, in the Ghana Armed Forces, and among his peers.
In the midst of moral decadence and corruption, in nearly every facet of the country's affairs, in the seventies and eighties, J.J Rawlings passionately looked forward to the ignition of transformation in his country.
Dark clouds of misery and poverty propelled by an acute systemic corruption covered the face of his country; the young and old alike, were caught up in the mirage of abominations that soon became like the normal norms of the nation; as a matter of fact, he would name his first child "Zanetor" which literarily means in his native Ewe language, "Let this darkness cease."
His fervent desire at that time and even today is the substantial edification of the lives of his people: offering them a sense of freedom, hope, peace and justice; a people that will take charge of their full potentials, do exploits and fulfill their various dreams.
The life and example of JJ Rawlings who named his first child ''Zanetor'' – let the darkness end -and for twenty years and more continued an unerringly on that mission of banishing the socio economic darkness-must be our constant inspiration.
While some may call him a successful revolutionary servant-leader that brought light to that dark phase of Ghana's history, others define his leadership style as charismatic and democratic; and still others figure out that he is endowed with high sense of situational governance approach, and emotional intelligence; one who is full of passion, energy and gravitas.
These qualities are recapitulated in one of his quotes when he said, "I am not an expert in Economics and I am not an expert in Law but, I am an expert in working on an empty stomach while wondering when and where the next meal will come.
"I am not an expert in Economics and I am not an expert in Law but, I am an expert in working on an empty stomach while wondering when and where the next meal will come from; I know what it feels like going to bed with a headache for want of food in the stomach".
This was the voice that cried from the wilderness, for the destitute, in 1979, with the valor to restore the lost glory and the hope of his country.
The density of Rawlings' spirituality and the passion for the common man's interest is supreme to his life and his policies and leadership style epitomize his nature.
Many may interpret him wrongly because of his critical abhorrence to the ills of our society; especially corruption and injustice.
Others however, go as far as designing propaganda machinery to annihilate the potency and truthfulness of his personality, in a bid to neutralize the integrity factor; what I termed, "demonizing the saints and canonizing the devil."
Nonetheless, the weight of his actions and inactions will continue to serve as a point of reference, and direct the scope of democratization and governance in Ghana and even beyond Ghanaian boundaries for a very long time.
Africa has seen the rise and fall of many great leaders. At the same time, the continent has produced bad front-runners who virtually terrorized their people through dictatorial governance.
We can't help but openly disassociate ourselves from their bad tendencies and character deformities.
Flight lieutenant Jerry John Rawlings emerged from nowhere as a junior officer, who could not control his tender heart over social injustices and the total denial and alienation of the people, after the overthrow of Dr. Kwame Nkrumah.
Many successive regimes after the 1966 coup supervised the total collapse of the country. Everything was allowed to decay while leadership enriched themselves and their families. People have to walk hundreds of miles away to seek medical care which was not available.
As a result of the destruction and demonization of everything Nkrumah, series of coups emerged here and there but none was able to restore decency, and transformation to the people of Ghana.
Jerry John Rawlings was touched by the cries, hunger and the suffering of the people, especially the ordinary people who could not afford a ball of kenkey(a stable dish similar to sourdough dumpling from the Ga-inhabited regions of West Africa-Wikipedia).
His emergence after the 1979 revolt sent a spontaneous jubilation to the people throughout the country. He was hailed and received by Ghanaians for his boldness and forthrightness. Some even called him junior Jesus and the savior.
His mission was to clear the mess and the rot in the system and to resurrect the collapsed Ghana. Tax evasion, bribery and corruption, nepotism, social injustice and entrenchment of the few in government, had been the order of the day, thereby crippling the economy and creating hardships and suffering for the ordinary person.
Jerry John Rawlings called for pragmatic change and transformation with his revolution and it totally paid off and today Ghana is a beacon of democracy for many nations around the globe.
However, the penchant to criticize and persecute those who take the risk towards change and progressive evolution is as old as time. In most cases, the stance and deeds of great men and women are projected by detractors as evil strides until the legends are no more.
It's ironic that great people only receive praises on their great deeds, years after they must have died. It is important to note that, efforts made by some to desecrate human dignity, and exalt falsehood, will yield negative impact on the society, sooner or later and sometimes for a long time. We must embrace truth and give it a chance.
Humanity is seek and tied of forgeries, fakery and false stories that have for the most time constituted our politics, religion and our social activities. Only few of those who confronted fearlessly these malpractices overcame death.
They are monuments of truth and justice, and will always remind us of the voices of those who lost their lives while following the same course.
It is sad that, lifeless effigies are usually erected to honor people who have received heavy punches and undeserving attacks, when such monumental structures could have been erected during their live time on earth; so that, they may have the joy, zeal andenergy to appropriately live their blessings onto the land.
The twist in my opinion, which is diametrically opposite to our value system, is rather that, we witness streets named and monuments erected for undeserving personalities.
Some in the quest for glory, go as far as paying for streets to hold their names and accolades awarded them; in an effort to white-wash their villainy. Lest we forget, the evil that men do, live along with them, and after them; and the good that great people create, impacts generations unending.
Even when he took of his military uniform and contested multi party democratic elections in 1992, he won massively to become the first president of the forth republic of Ghana. Indeed Jerry John Rawlings planted the tree of modern democracy in Ghana.
His belief in social democracy, justice and the integrity factor as against the opportunistic tendencies and philosophies geared towards disempowering the citizenry made him the man of the people. He is adored, honored and cherished by many. Jerry John Rawlings served his nation well, and the best way he knew how.
In 1992, he becomes acquiescent to political pluralism. In 2000, he conceded to a transition which he personally supervised, and left our nation in one piece.
As a pragmatist, and an astute leader, he understands African politics, and time to quit, if and when necessary, to preserve the achievements of the struggle against injustice.
Jerry John Rawlings does not see democracy as just going to the polls and elect government to lord over the people. Rawlings' democracy is a social democratic system where power belongs to the people, where a social and judicial justice operate freely and independently, where resources and development are distributed fairly and state property are protected from pilfering and looting.
It is hard to hide the exceptional excellence of J.J Rawlings and his achievements. During his reign as the president of Ghana, Mr. Rawlings basically left a trail of all times, and it has left an indelible mark.
History will forever look into his leadership style and various achievements in building the socio-cultural, political, economic and governance establishments ranging from: educational schemes; the numerous institutions and programs in the educational sector, that have basically laid the foundation for the modern Ghana; the order he put in place in the health sector; the economic reforms; the development of human capital, the national image, and foreign policies that he engendered; one can't but say that, his legacy will live on, and will be transcended beyond our generation.
It takes one with the love for progress to relate and lead like J.J Rawlings. Although fearless and boisterous in his vocal approach, attributes like humility, fairness and above all, Justice are deeply embedded in his inner self.
Ghana may not be as economically developed as America, EU, UAE, China, Singapore, South Africa and other big economies as we may have wished, but it is imperative to acknowledge key positive indicators about the reign and the leadership of president Rawlings both as a head of state under the military regime, and as a democratically elected president.
If for nothing, the solid framework of the Fourth Republic that Ghana enjoys today was nurtured and promulgated under his leadership, and that without exaggeration, is the best and most successful republic the nation had ever had.
This is not to re-write history but to put the records straight for the living and the future generations.
Ghana through President Rawlings selfless leadership was brought back on track, and made to emerge from an economic abyss and hardship, and to be repositioned as a beacon of peace and democracy; an epitome of socio-cultural cohesion, and social order on the continent.
It takes courage, passion, dedication, sincere devotion, on a daily basis; the spirit of patriotism, resilience and the love for humanity, to remain anchored onto universal values and standards.
Through his selfless leadership; not even the love for himself, the love for his family, the love for his tribe nor the clan; could circumvent his love for patrimony and the passion he holds on his people.
During his tenure, he believed and echoed that, "… What is needed (in Ghana) is the ability to empower the people" and restore the "…integrity of leadership." He said, "Leadership should not be used to intimidate our citizens, rather it should empower them."
His words and deeds exalt him as an apostle of Justice, and this work exhumes a few of his achievements so that, even in his grave, the good deeds of such a God-sent wouldn't easily be forgotten; for it is an inherent human nature to easily forget the good works of fellow human being but, perpetually remember the flaws and failures of others.
Written by Dr. Donald Senanu Agumenu
Accra, Ghana
1Oth, December, 2019
donaldcogan@yahoo.com