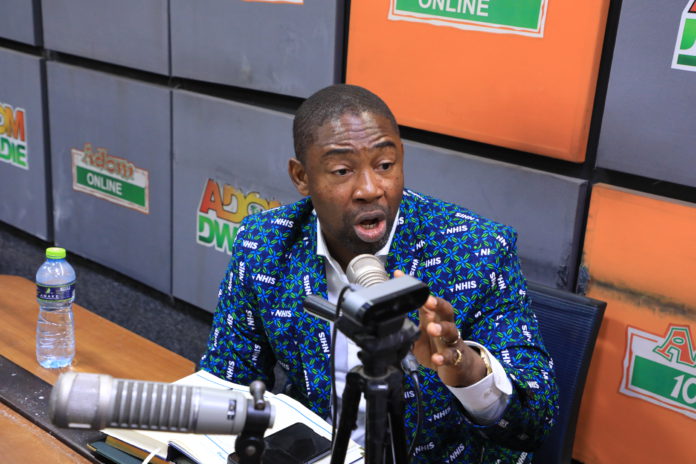 The Chief Executive Officer of the National Health Insurance Authority (NHIA) has cautioned health facilities against double charging for services and medicines provided to patients.
Dr Bernard Okoe Boye said some facilities were illegally charging patients for services and medications that were paid under the National Health Insurance Scheme (NHIS).
He gave the warning when he handed over a credentialing certificate to the International Maritime Hospital (IMAH) to start providing health care to registrants of the NHIS as part of a collaboration between the two institutions to provide the public with quality care.
He said the practice was unfortunate, as that was one of the reasons why people claimed that the scheme was not functioning.
He said illegal charges committee was established in every district by the NHIA to check on the operations of facilities, fish culprits out, and prevent such a practice.
Dr. Okoe Boye added that to achieve universal health coverage in the country, they were working to reach at least about 80 percent of Ghana's population, with the scheme adding that currently the NHIS had about 17.2 million active members, representing 55 percent of the population of the country.
He said to do this, they seek to expand their operations to various locations to make quality, affordable health access available to all.
He said there had been an upward adjustment of the tariffs for services and medications, while payment of claims has also been disbursed within the acceptable 90-day window.
The NHIS CEO disclosed that to cure the deliberate habit of some health institutions' claiming their claims had not been paid for a long period, his outfit had come out with a sunshine policy, in which whenever payment was done, stakeholders such as the Ghana Medical Association and the Pharmaceutical Association were informed.
In a welcome address, Dr Akwesi Afriyie Achampong, the Chief Executive Officer of IMAH, said providing NHIS services to the public was a great achievement for the hospital, as it was their aim to provide international healthcare standards to all, irrespective of their financial background.