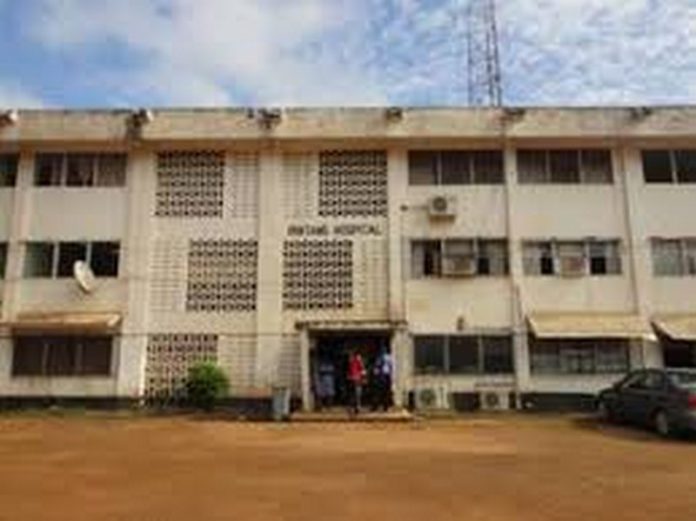 Staff of the Pantang Hospital here in Accra have embarked on a total strike – laying down their tools and attending only to cases in the wards.
New patients to the facility are being turned away as the workers begin another phase of their protest over encroachment and safety concerns.
The staff last week began a sitdown strike and outlined a roadmap to follow if their concerns remain unresolved.
Among others, the staff said the activities of land guards on a parcel of land amidst sporadic gunshots and rampant robberies and attacks on some workers remain issues that put their safety under threat.
According to the staff, they have raised these issues since 2017 and several promises by the health ministry and municipal authorities have remained unfulfilled.
READ ALSO:
Ashanti Region: Coronavirus contact tracers on strike
CLOSSAG threatens strike action
Pantang Local Representative of the Ghana Medical Association, Dr Alex Ansah Owusu, told JoyNews they have had to take the measure to compel authorities to address their issues.
"For three years we have been talking…this time, we want to see action. Our lives are at risk and we cannot work under these conditions.
"We have withdrawn services at all the Out Patient's Department (OPD) and are only attending to those in the wards. If we are pushed, we will withdraw services in the wards as well," he said.
He expressed disappointment over what he said was the failure of the powers that be to fix the problems.
"We sent a letter on the 2nd of May to convey our grievances one more time, it appears our leaders are apathetic and simply unconcerned about what is happening to us," he said.
The staff are calling for adequate police and military protection to ward off activities of the land guards.
They also want a wall erected around the hospital and particularly the psychiatric OPD, which is partly on the said contested land.
A visit to the hospital Thursday morning showed entrances draped in red bands with "we are on strike" inscription at the various doorways.
New patients, who visited the facility, were turned away, including pregnant women who had come for antenatal visit.
Adams, husband of a five-month-old woman, Adiza told JoyNews: "It is our first time here – we were told to come here by a friend. But we have been told the workers are on strike.
"We now have to find another hospital to visit, I am even frustrated."
Dr Owusu said series of meetings have been scheduled for later Thursday with Member of Parliament and municipal authorities also expected to visit the facility to attempt a resolution.
Until the wall is built, and security officers deployed to provide security on the hospital premises, the workers say, they will continue to lay down their tools.