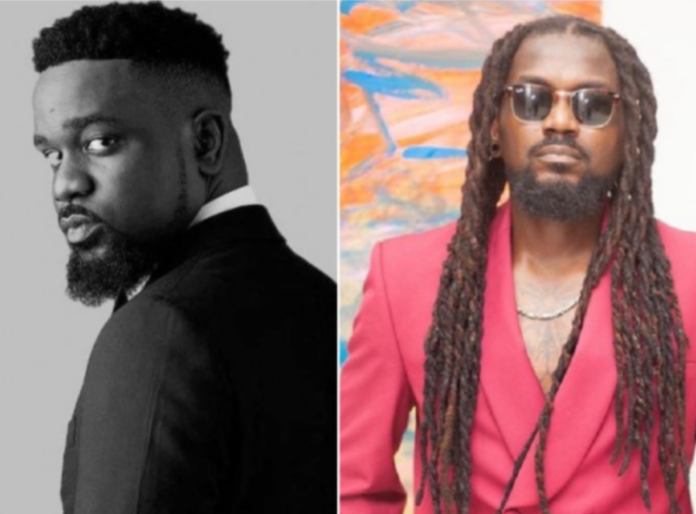 Reggae and dancehall artiste, Emmanuel Andrews Sammini, popularly known as Samini, has expressed his displeasure with rapper Sarkodie for reportedly ignoring his proposals to collaborate.
According to Samini, Sarkodie has been ungrateful after everything he supposedly did for him.
He explained that Sarkodie was looking up to him [Samini] when he came into the music industry.
Speaking on HitzFM DayBreakHitz with Andy Dostry, the dancehall artiste said Sarkodie once rapped about wanting to be like him but later denied being a fan.
"Sark you didn't force for me, you are there [in the studio] and listening, you didn't force for me. You are my small boy and you know that.
"Sark was the first guy that rapped and said he wants to blow and become like Samini in one of his very first tracks.
"Later on, he went on radio and said he is not a Samini fan so he doesn't really listen to my songs. Same guy that said in his earlier freestyle that he wants to be like Samini," the dancehall artiste said.
Samini's frustration comes when a fan on Twitter asked when they should expect another collaboration with Sarkodie.
However, he said he is not interested in collaborating with the rapper.
"Not sure I'll need a verse from Sark but if he ever does need one I'm not interested and that's facts. He knows this himself.. )y3 Alo sometimes and I don't play that."

On his page on Twitter, he said the 'No Pressure' crooner's supposed reluctance to give a concrete response to requests for features affected his 2021 Burning EP.
"Yes or no be problem for am so e go slow you and your project go dull …, he did it to me on burning EP," he replied.
But speaking on Hitz FM on Tuesday, Sarkodie insisted that utterances must have come from a "certain place" for which reason he would need more details.
"Him feeling like that, I don't have any control over that. I can only say sorry about how he feels. Not necessarily because I agree with everything he is saying," Sarkodie said.
Sarkodie, however, indicated that he does not agree with the rationale behind his accusations. He said that there are many reasons why instances like these occur.
Per his clarification, he is sometimes hesitant to do certain features "not because the music is not good", but "you can hear a song that is so good but maybe you don't hear yourself and then you're trying to find a pocket in the song and then one day you do it."
"There are some songs when they sent it to you, it's like two seconds. Maybe probably, if I send you a song and you loved it in the moment, you did it. I didn't figure it out and I'm not talking about him, it could happen," he said.
MORE: