One of the voices of reason on Adom FM's Dwaso Nsem show, Benjamin Otchere-Ankrah, has graduated with a Doctor of Philosophy (PhD) over the weekend.
Mr Otchere-Ankrah who is known for his tough-talking approach on issues relating to the public interest, was part of six others who successfully pursued and defended their PhD thesis in Public Administration and Policy Management.
He had his PhD conferred on him at a graduation ceremony by the College of Humanities of the University of Ghana and will now bear the title, Dr Benjamin Otchere-Ankrah (PhD).
As an academic with a special interest in public administration and policy management, Dr Otchere-Ankrah's PhD thesis was on the topic, The Implementation of the Composite Budget System in Ghana – Using Three Local Governments.
At a short reception where he was joined by family and friends to celebrate his new achievement, Dr Otchere-Ankrah encouraged everyone who has plans to further their educations to see all impediments as part of the journey.
He said the journey will not be easy but a major first-step is the only thing required to conquer the fear that comes with starting an academic programme.
Dr Otchere-Ankrah is a lecturer at Central University where he is head of Central Pre-University and Professional Institute.
He is also the owner of AB-MANA Company Limited, an Environmental Protection Agency-registered fumigation company that fumigates against insects and reptiles.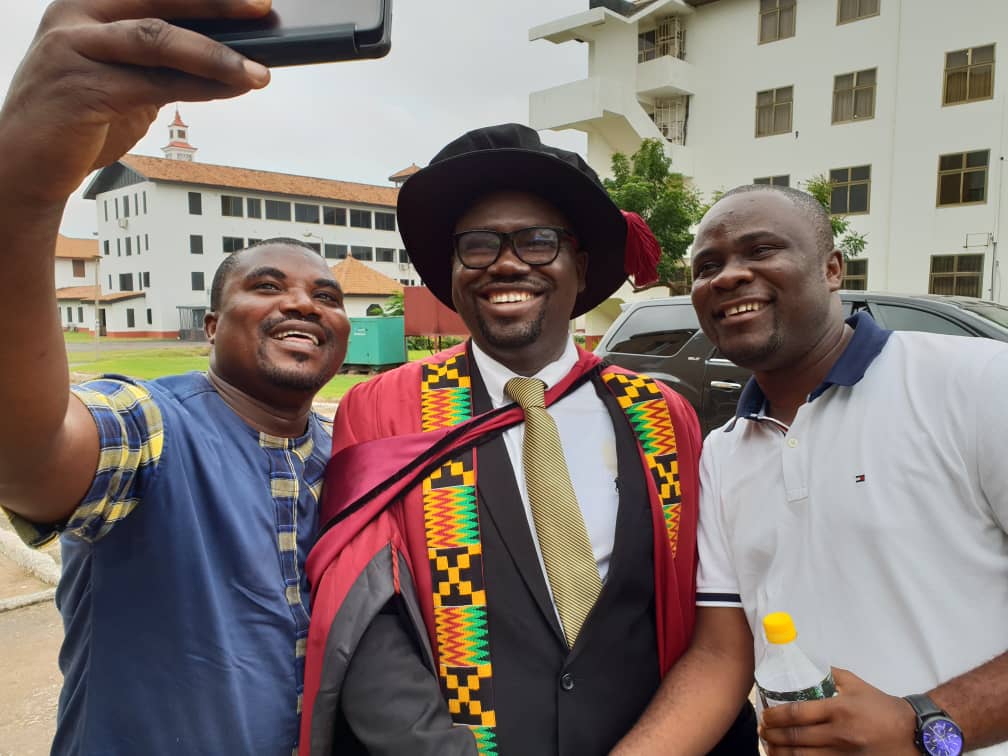 Dr Otchere-Ankrah is joined in a selfie by a producer of Dwaso Nsem, Listowel Kwadwo Fordjour (left) and the host of Ekosii Sen on Asempa FM, Philip Osei Bonsu aka OB