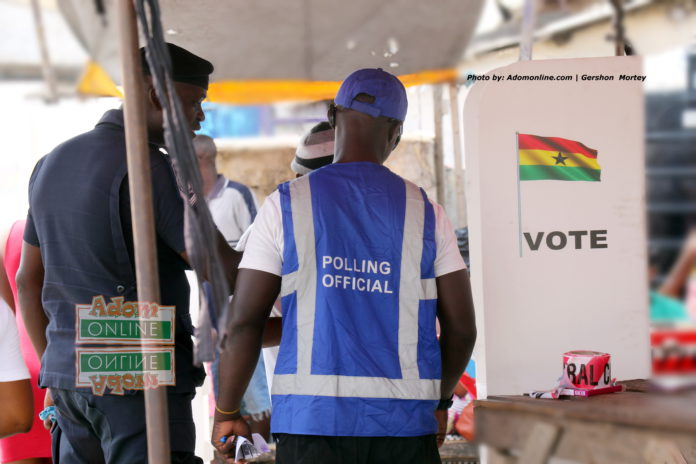 Counting of ballots is on hold in at least three electoral areas in the Chereponi and Mamprugu/Moiduri districts of the North-East region following violent disagreements.
The disagreements, according to local reports, were sparked by local electoral officers' attempts to stop voters who had queued late into the official closing time from casting their votes. 
At Katikri polling station in the Jadema Electoral Area in the Moiduri district, community members seized electoral materials after the presiding officer there ordered voting to stop after 5:00 pm while some 12 voters were still waiting in the queue to vote.
The aggrieved members insisted the 12 people must be allowed to vote thereby preventing the electoral officers from conducting the votes count.
Police reinforcements were deployed after the angry locals threatened to incinerate the ballot materials.
The security personnel on duty had to suspend the counting exercise after struggling to calm the situation.
At Epabongu polling station in the same district, electoral officials and materials were escorted out from the community by police men following an agitation which broke after uncertified results appeared to show a non-resident candidate leading.
ALSO READ
Ballot boxes and papers were taken to the district capital, Yagaba, and it's still not clear whether counting was conducted and results declared.
In the Chereponi district also, chaos broke out at a polling station in Kwamenazori electoral area where some residents allegedly engaged in a fisticuffs.
At Jinjingu in the Tijinga electoral area, voting was ongoing as late as 9:00 pm due to violence where a police officer was allegedly manhandled by feuding rival supporters.
Local sources in the far flung community told JoyNews the violence ensued after some members of the Jinjingu community prevented polling agents of a particular candidate from entering the community.
The candidate himself who is not residing in the area was persistently harassed and blocked from monitoring the exercise.
Security reinforcement was called and voting was forced to resume and run into hours after the official closing time.
One local electoral volunteer who supervised the exercise in the area reported that there were still about 50 people waiting in a queue to vote as at 9PM.