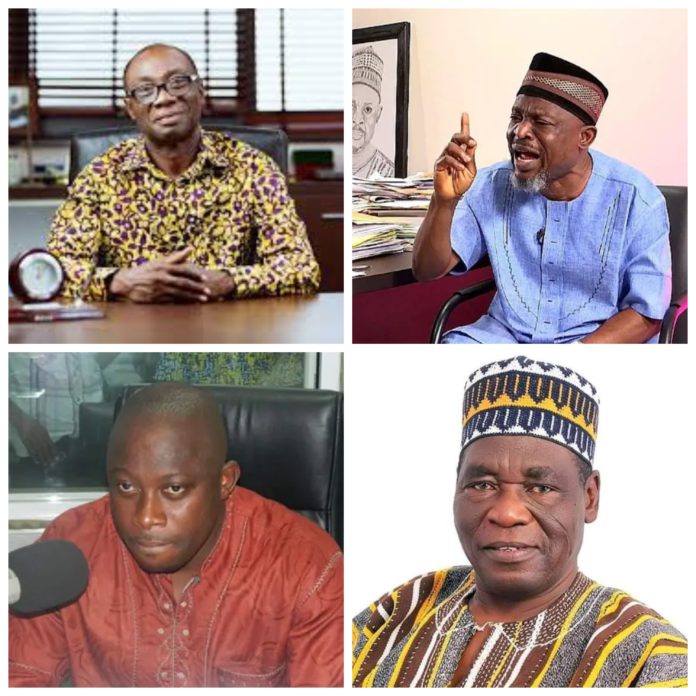 Some National Democratic Congress (NDC) Members of Parliament lost their bid to represent their constituents in 2024.
Some newcomers gave them a run for their money leading to 16 sitting MPs losing their seats at the parliamentary primaries held on May 13, 2023.
Former Minister for Power and Member of Parliament for Pru East, Kwabena Donkor, lost to Lord Kwaku Boam in the primaries held on Saturday, May 13, 2023.
Mr. Boam polled 474 votes to beat Kwabena Donkor who polled 371 votes and Bright Fiawornu who polled 66 votes.
The incumbent MP for Chiana-Paga, Thomas Dalu, also lost his slot to a young businessman, Nikyema Alamzy who polled 488 votes against Mr. Dalu's 300 votes.
Simon Akibange Aworigo polled 475 votes to defeat three other aspirants including the incumbent MP for Navrongo Central, Samson Tangombu Chiragia.
The MP for Bongo, Edward Bawa was also shown the red card by NDC delegates in his constituency. He lost to Charles Bawaduah.
Below are the 17 incumbent MPs who lost:
1. Alex Adomako lost to a newcomer, Hajia Nasira Afrah (Sekyere Afram Plains)
2. Edward Bawa lost with 509 votes as Charles Bawaduah polled 535 votes (Bongo Constituency)
3. Wisdom Gidisu lost with 257 votes to Nelson Kofi Djabab, who had 441 votes (Krachie East)
4. Alhaji A. B. A. Fuseini had 330 votes and lost to Attah Issah who polled 801 votes (Sagnarigu constituency)
5. Abeiku Crentsil had 149 votes and lost to Dr. Ekow Kwainoo who had 329 votes (Ekumfi Constituency)
6. Dela Sowah had 281 votes and lost to Sebastian Fred Deh who had 332 votes (Kpando Constituency)
7. Dr Kwabena Donkor had 371 votes and lost to Emmanuel Boam who had 474 votes (Pru East)
8. Angela Alorwu-Tay polled 225 votes, losing to her contender, Frank Afriyie who won with 631 votes (Afadzato South)
9. Wisdom Kobena Woyome had 562 votes and lost to Maxwell Kwame Lukutor with 597 votes (South Tongu Constituency)
10. Thomas Addah Dalu also lost with 300 votes to a young businessman, Nikyema Alamzy who polled 488 votes (China-Paga)
11. Sampson Tangombu Chiragia also lost with 447 votes to Simon Akibange Aworigo, who won with 475 votes (Navrongo Central)
12. Augustine Tawiah polled 452 votes and lost to Mustapha Amadu Tanko who had 935 votes (Bia West Constituency)
13. Peter Yaw Kwakye Ackah had 575 votes and lost to Joana Gyan Cudjoe who had 756 votes (Amenfi Central)
14. Sophia Karen Edem Ackuaku (Domeabra-Obom MP but switched to Ayawaso Central)
15. Christian Otuteye (Sege Constituency)
16. Edward Kaale-Ewola Dery (Lambussie)
17. Albert Akuka Alalzuuga (Garu Constituency)